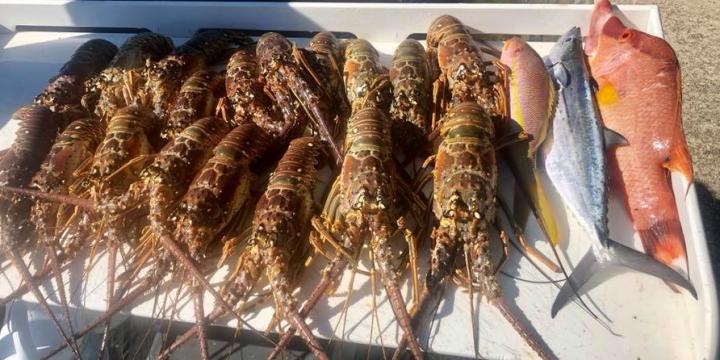 Underwater Report
8am-outside air temperature – 80 degrees, warming to 91 degrees by 10am. 84-degree water temperature with a calm east breeze, flat seas, a mild north current and visibility of 40-plus feet on the reef.
Vessel & Crew
Private vessel-Chiefy (29' Sea Vee with twin 300 hp Mercury Verados)
Crew-Ben Fallon, Carmine Delorenzo and myself.
Dive, Dive, Dive
I absolutely love diving in our area this time of year. The water temperature is very warm and will stay that way for a few months. The air temperature is comfortable with mild breezes out of the east. Other than occasional tropical activity, the diving conditions are very predictable, meaning we get to dive a lot.
Additionally, this year's lobster harvest has been incredible and promises to continue for the foreseeable future. With all this diving, sometimes the challenge is to find enough Chiefy crew members to mix and match for our outings. Luckily, we've got a large assortment and variety of skilled divers to add to the mix.
Ben is a local Deerfield Beach resident with a wife, one small child and now expecting another one. He's a merchant marine on large tankers out to sea for extended periods of time, so we try to get him on board when he's available.
Carmine is almost a regular and a member of the South Florida Spearfishing Club.
Today was an easy day as we concentrated on the shallow reefs just off Deerfield Beach. With three divers, we rotate two in the water and one driving the boat to follow the flag. I think what makes diving this area so special is we are only a few thousand feet off the beautiful, white sandy beaches getting our limit of spiny lobster. This reef is full of marine life and we were able to also land a nice size hogfish, yellow tail snapper and a mackerel.
Having the ability to dive in the greater Fort Lauderdale area requires getting out there with a variety of crew members but it's reassuring we end up with the same results, a limit of lobster and an assortment of nice fish.