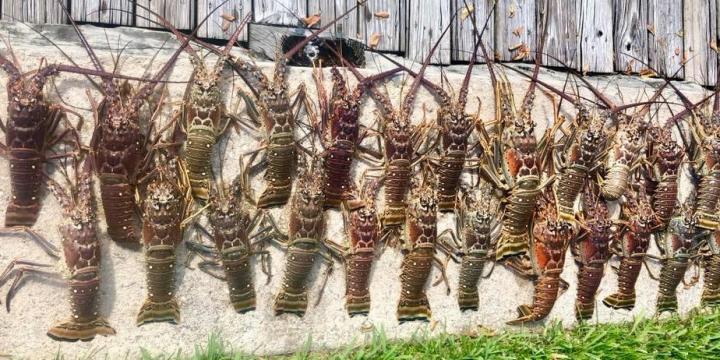 Underwater Report
8am-outside air temperature – 81 degrees, warming to 90 degrees by 10am. 84-degree water temperature with a calm east breeze, flat seas, a mild north current and visibility of 40-plus feet on the reef.
Vessel & Crew
Private vessel-Chiefy (29' Sea Vee with twin 300 hp Mercury Verados)
Crew- Ken Udell, Jack Harari, Johnny Strong and myself.
Dive, Dive, Dive
Today we were able to add Johnny to the Chiefy crew. He's originally from Alabama and has done a lot of spearfishing off the oil rigs in the Gulf of Mexico. Now located in Naples, he does the cross-state trek of a little over two hours and he's diving in our area. The diving in Naples is very different then southeast Florida with very few lobster and long boat rides to get to small spots for diving. We probably don't land as many or as big fish as the west coast of Florida; however, our reefs and wrecks are outstanding. And they're located within a mile of our beaches.
Johnny was a very good diver, so we just concentrated on finding and catching spiny lobster. We drifted along the top of the second reef, in 45-feet of water off Hillsboro Beach. This area has a lot of sandy holes with one-to-two-foot edges, and we found a few single lobsters in holes along these edges. It took him a few tries to catch his first lobster, but he was a quick learner and ended up catching his limit.
We put Jack and Ken on the top of the third reef off Deerfield Beach and this area also had lobsters. They were clustered together and easy to catch for both to get their limit of six per person per day.
While no fish were landed today, it was perfect diving conditions, and everyone got their limit of lobster. After cleaning up, Johnny was able to drive home to Naples with his lobster to bring his family fresh, spiny lobster from the Greater Fort Lauderdale area.