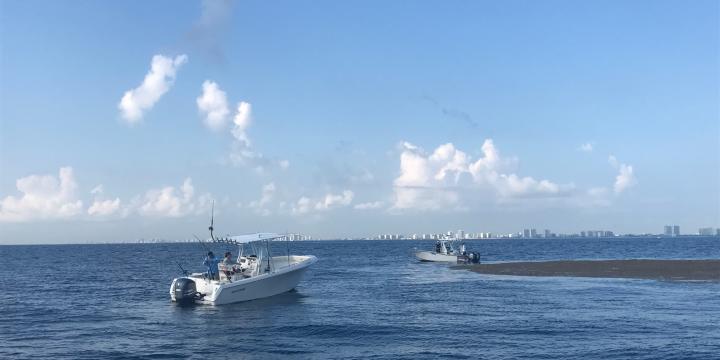 Underwater Report
8am-outside air temp-84 degrees, warmed to 92 degrees, with a gentle breeze out of the west. Very flat ocean conditions with barely a ripple on the water.
Vessel & Crew
Private vessel-Sand Diver (39' Yellowfin with triple 300hp Yamahas)
Crew-Tom Campbell, Chuck Van Buskirk, Reagan Van Buskirk, Wyatt Van Buskirk and myself. Hurricane Irma had some impact on diving with the limited visibility so the crew decided to go fishing…with hooks, bait, rods and reels.
Fish, Fish, Fish
The amount of weed off shore has been making Mahi fishing incredible.  The good news after a storm is the mahi fishing is Red Hot!
And today didn't disappoint us.
Chuck brought his two older grandchildren, Reagan and Wyatt, who are both avid fisherman. Today's conditions were ideal for a great day of fishing. As we trolled off shore, still within sight of the buildings along the coast, we stopped at several large patches of weed. We were only three and a half miles away from the inlet but in well over three hundred feet deep of blue water. You just knew we were going to catch fish as the conditions for mahi fishing don't get much better than today.
Chuck got the first hit with an over thirty-pound mahi, jumping out of the water about twenty times. The green color of the fish was spectacular with the blue water as the background. The grandkids were excited to help as Tom gaffed the big fish, putting him in the cooler.
The action continued as we caught two more smaller mahi but it added to the fun of the day. The kids had a great story to tell their friends as they got to help granddad catch some fish. Even the adults today had some great stories to tell about the great mahi fishing.