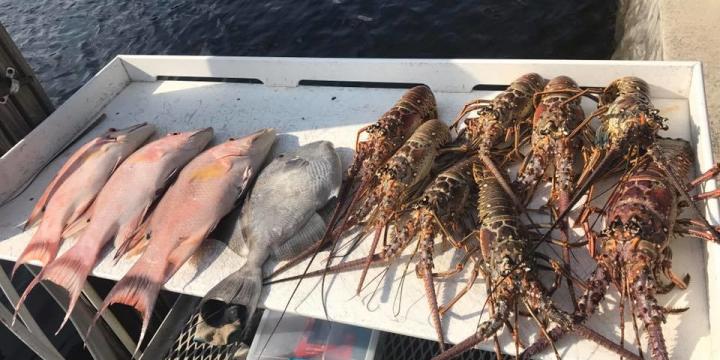 Underwater Report
8am-outside air temperature - 82 degrees, warming to 93 degrees by 10am. 86-degree water temperature with one-foot waves, a very mild north current and visibility of 30 feet.
Vessel & Crew
Private vessel-Chiefy (29' Sea Vee with twin 300 hp Mercury Verados)
Crew- Andrew Rubin, John Strunk and myself.
Dive, Dive, Dive
The best news of today was the much-improved visibility which helped us find some spiny lobster and get some fish. The better visibility also allowed us to see Hurricane Irma's impact on the reefs. Like the wind effect on land to the vegetation, the ocean has taken away some of the sponges and soft corals. There has also been a change in some areas of the reef which are now covered with sand while other areas have been opened, almost creating new reefs.
Reefs help limit the wave action on the land so you can say its Mother Nature's way of keeping order. Today we could view her work in the ocean and look forward to investigating what additional changes she made in our area.
John and I did our first dive off Lauderdale-by-the-Sea between the LBTS and Pompano piers along the eastern edge of the second reef. It was good to see a few lobsters in spots we have previously found them before the storm. Luckily, we also got a few hogfish and a large triggerfish. Andy did a dive in the eastern part of the third reef and found a few lobsters and hogfish.
Overall it was great to see under the sea! We know the conditions will improve greatly as the ocean settles down. We are looking forward to what Mother Nature has created in the Greater Fort Lauderdale area.