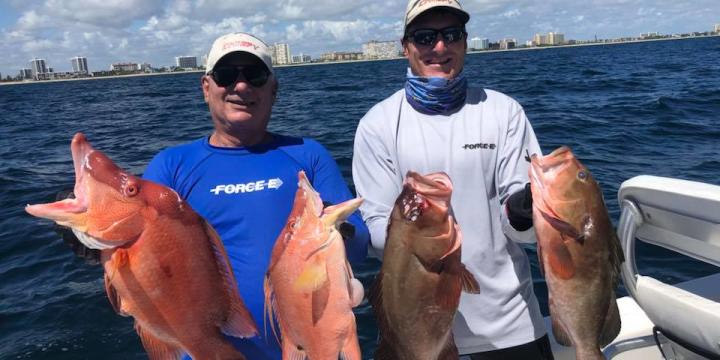 Underwater Report
8am-outside air temperature – 82 degrees, warming to 91 degrees by 10am. 84-degree water temperature with an east breeze, 1-2-foot seas, a mild north current and visibility of 40-plus feet on the reef.
Vessel & Crew
Private vessel-Chiefy (29' Sea Vee with twin 300 hp Mercury Verados)
Crew- Andrew Rubin, Ben Fallon, Shelby Barras and myself.
Dive, Dive, Dive
Having Shelby as our driver of my boat made for a fun and quick day on the water for the Chiefy crew. It allowed the three of us to dive together, we drifted with the current, and were picked up by the boat at the end of our two dives.
Today we started out on the eastern edge of the second reef between the Pompano and Anglers pier in Lauderdale-by-the Sea. This is a slope-type reef starting in 65-feet of water but inclining up to 55-feet along the top. There's not a lot of dramatic walls, however, there are areas along the edge that have some structure for lobster and fish. There's also a secondary edge to the west where a few holes are located, again where we find lobster and fish. It's a perfect drift dive for three divers as there's a lot of reef areas as we move with the current parallel to each other.
Underwater hunting is different in that the most effective way to dive is parallel with each other, keeping your buddy in sight out of the corner of your eye. Most non-hunters or tourist divers are accustomed to a single file dive, one behind the other, with a leader pointing out marine life along the way.
As the three of us drifted with the current, we stopped to catch lobsters and land a few nice fish. By being parallel, we could see each other and assist our buddy if needed.
Our second drift dive was north of the Pompano pier but south of the Hillsboro Inlet. We were on the top of the second reef in 45-feet of water in an area with a lot of crevices and small ledges. We were able to get our limit of spiny lobster and land two red groupers and two hogfish.
Today was very productive and having a driver on the boat allowed us to make it a quick day. There's nothing like a day out on the water diving for fresh fish and lobster, especially when you're in the greater Fort Lauderdale area.