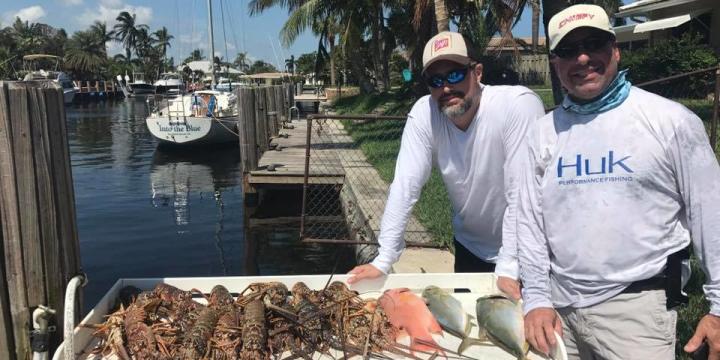 Underwater Report
8am-outside air temperature - 82 degrees, warming to 93 degrees by 10am. 86-degree water temperature with flat ocean conditions, a very mild south current and visibility of 50 feet.
Vessel & Crew
Private vessel-Chiefy (29' Sea Vee with twin 300 hp Mercury Verados)
Crew- Andrew Rubin, Ken Udell, John Strunk and myself.
Dive, Dive, Dive
It's been almost three weeks after Hurricane Irma and we can say today things are almost back to normal. The ocean conditions were flat with incredible visibility of over 50 feet.
John and Ken dove together with Andy being my dive buddy. We primarily stayed off Deerfield and Hillsboro Beach in the 75-85-foot range, which is east of the third reef. The reefs looked in good shape with some sponges and soft corals having been displaced. The good news is we found some spiny lobsters and even got a few fish, making the day enjoyable.
The dives today were relatively easy as all of us are Nitrox certified (using anywhere from 32-36%) and have 100 cubic foot tanks. At that depth, it's about an hour for each group underwater and works well for our required surface interval. "Two-up and two-down" was the diving protocol today. With the south current, we just continued from where the last divers had finished as the reef at that depth is nonstop.
A great day on and under the ocean. Getting back to normal has its benefits…pristine reefs, abundant marine life and awesome visibility. All found every day in the Greater Fort Lauderdale area.