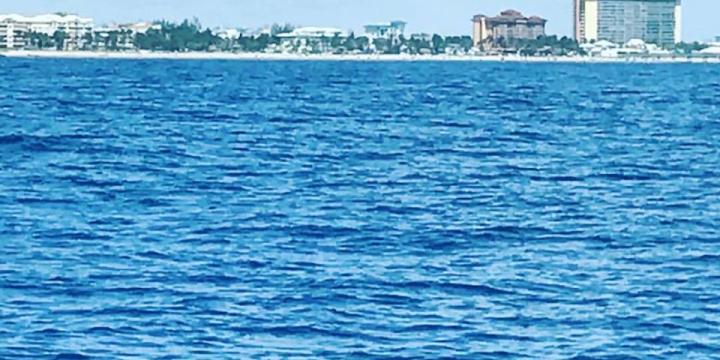 Underwater Report
8am-outside air temperature - 82 degrees, warming to 93 degrees by 10am. 86-degree water temperature with one-foot waves, a strong south current initially but then slowed to almost nothing with a visibility of 40 feet.
Vessel & Crew
Private vessel-Chiefy (29' Sea Vee with twin Mercury Verados)
Crew- Francisco Loffredi, Tyler Bo and myself.
Dive, Dive, Dive
Hurricane Irma is on its way and I wanted to get out for a quick dive before the storm affects the area. Tyler works at a local dive store and is also a dive instructor for Nova Southeastern University. This was a great opportunity to dive with him as he's only off a few days each week. Francisco is the Cressi (dive gear) "Spearfishing Ambassador" and he offered to drive the boat. He is primarily a freediver and lives in Rio de Janeiro, Brazil but frequents the area. He started as a commercial spearfisherman in Brazil and now travels the world promoting Cressi dive products.
With Francisco driving the boat, it allowed Tyler and me to dive together on back-to-back dives with just some surface interval time in between. Francisco would normally have done some freediving during our surface interval time but he was making travel arrangements in preparation of the Hurricane heading our way. As a freediving and spearfishing champion, he routinely descends to 90-100 feet, so our area is a prefect depth for him.
We started in the 75-foot range, on the east side of the third reef off Deerfield Beach and grabbed a few spiny lobsters. The current on the first dive was a little stronger than normal but we were able to stay together throughout the dive. The current slowed down on the second dive and this allowed us to collect more lobsters. Francisco remarked the spiny lobster in Brazil are like ours but very few recreational divers harvest them as it's primarily the commercial lobsterman making a living selling them.
Today, it was all in a "day's work" for the Chiefy crew by getting some lobster in the greater Fort Lauderdale area before Hurricane Irma makes landfall here. Hurricane preparations would be in full swing tomorrow, but today was filled with diving and enjoyment. We were glad to get one more day of diving before the storm.