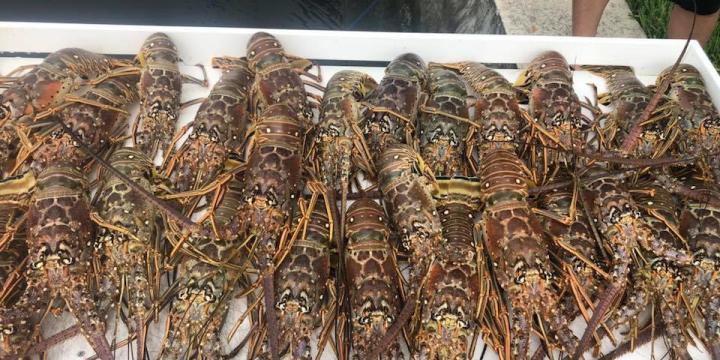 Underwater Report
8am-outside air temperature – 77 degrees, warming to 88 degrees by 10am. 84-degree water temperature with a calm east breeze, flat seas, a mild north current and visibility of 40-plus feet on the reef.
Vessel & Crew
Private vessel-Chiefy (29' Sea Vee with twin 300 hp Mercury Verados)
Crew-Richard Rice, Beth Rice, Andy Rubin, John Strunk and myself.
Dive, Dive, Dive
The pressure was on today as I had invited Nana Joan for fresh lobster dinner tonight…It was either get some lobster or be humiliated into getting a take-out pizza. The good news is the diving and spiny lobster harvesting lately has been nothing short of spectacular.
We were off Pompano Beach between the pier and the Hillsboro Inlet. The diving today was on the second reef, as we've been finding spiny lobster in that 40-foot range. It was a great boat ride as we headed south from my dock in Deerfield Beach. As we cruised down the Intracoastal Waterway, you can see the yachts and multi-million-dollar homes in Lighthouse Point and Hillsboro Beach.
We found spiny lobster still clustered together in the 40-foot reef area. The idea with catching spiny lobster is to work together in selecting the six each of us can get per day. Honestly, it was easy work to get our limit today and Andy also landed a nice hogfish, which added to the days catch. I was able to provide fresh Florida Spiny Lobster tail for Nana Joan's visit this evening.
Using a pair of heavy shears, I split the tail down the middle and finish cutting them in half with a large knife. I put the half-cut tails in an aluminum pan coated with a non-stick spray with the shell side down. I smothered the tails in melted butter and I like to use Chef Paul's Seafood Magic as a seasoning. Some folks like to add lemon juice to the butter or just have the tails without any spice.
Cover the pan in aluminum foil and place on the grill for 20 minutes. This cooks the tails and with about five minutes left, I take them out of the pan and place them meat side down directly on the grill. The direct flame gives the meat a little crunch, however, be careful to not over cook or burn the tails.
Bon Appetite and nothing better than a fresh Florida lobster tail dinner with Nana Joan.