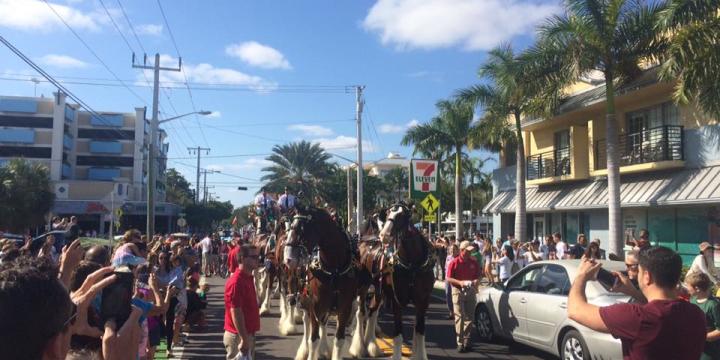 As I walked from the Cove Shopping Center in Deerfield Beach along Hillsboro Blvd, timing was perfect to witness a spectacular sight. I was on the east span of the bridge across the Intracoastal Waterway when three red tractor trailer trucks, holding the world-famous Anheuser-Busch Budweiser Clydesdales, complete with a Broward Sheriff's Motorcycle escort, rumbled eastbound toward the main beach parking lot. Once there, they proceeded to unload the Clydesdales and hitch up the beer wagon complete with Clyde, the Dalmatian dog. They were coming from the stables at Tradeswind Park in Coconut Creek, in preparation for their Deerfield Beach S-Curve appearance along A1A and Ocean Way.
I made my way to Rattlesnake Jake's, a fixture along the S-curve, to meet up with my buddy Mickey for lunch. We shared the tuna roll and a few fish tacos with locally caught blackened Mahi. As we finished (and almost like magic) the crowd outside came to a standstill as the iconic Clydesdales appeared in front of Jake's. Mickey and I stepped outside to witness the delivery of a retro-wooden case of Budweiser, hand delivered off the beer wagon, to Rattlesnake Jake's owner, Junior.  
Of course, I had to have a cold Budweiser in honor of the Clydesdales and a-once-in-a-lifetime sight in Deerfield Beach. Life is good.