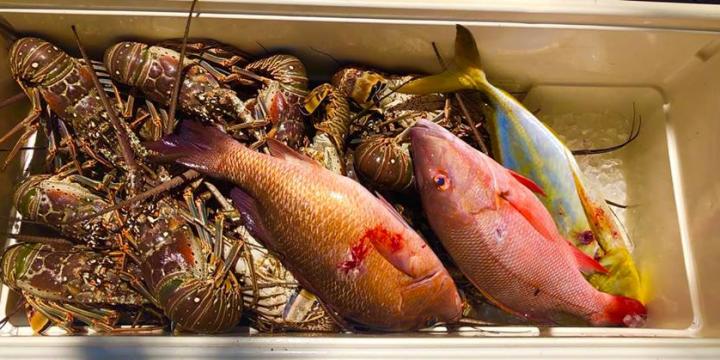 Underwater Report
8am-outside air temp-82 degrees warmed to 91 by mid-day. The water temperature is a warm 84 degrees with gentle winds out of the east and 40-foot of visibility with a slight south current.
Vessel & Crew
Private vessel-Sand Diver (39' Yellowfin with triple 300hp Yamahas)
Crew-Tom Campbell, Ken Udell, Chuck Van Buskirk, Andy Rubin, Peter de Villers and myself.
Dive, Dive, Dive
The start of spiny lobster season is always on August 6th, signaling a long season ending on March 31st. As a recreational diver, we're allowed six spiny lobster per day per diver. However, most of the spiny lobster harvested in the State of Florida is by the commercial trap industry.
On this day we combined some of the Chiefy crew with the Sand Diver crew to make it a memorable Opening Day. I paired up with Ken and we dove an area north of the Pompano Beach Fishing pier in 35-feet of water. This is a nice reef with a lot of structure and an abundance of marine life including spiny lobster. We found them bunched together in groupings of five or six, but had some short lobsters mixed in with them. We worked together as a team to push lobsters to each other and snag some of the bigger ones. The great news it was easy to get our limit as each crew of divers had similar results.
That allowed us to target fish on our next dive after getting our limit of lobster. It's difficult to both get lobster and fish at the same time as the strategy is different; while lobstering we are close to the reef, with spearfishing, we are generally higher off the reef.
The good news is we were able to land a few nice snappers and even a yellow jack. These are all good eating fish and a great complement to the limit of lobster gotten on Opening Day of the season.