Written by dive enthusiast Rob Curran
Sunny, it's gridlock out here
Lauderdale-By-The-Sea...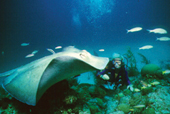 Blue skies overhead, my buddy Susan and I slip into our scuba gear and shuffle off the beach into the ocean. Divers-down flag in tow, we make the easy five-minute surface swim out to the first reef, just a hundred yards from shore.
We descend 20 feet, to a chaotic scene. Over to Bob, for the traffic report...
It's eight a.m. The locals rolled out of bed just two hours ago. But it's already bedlam. And still ten minutes before the traffic