9 WAYS VISIT LAUDERDALE IS
INSPIRING HOPE FOR THE FUTURE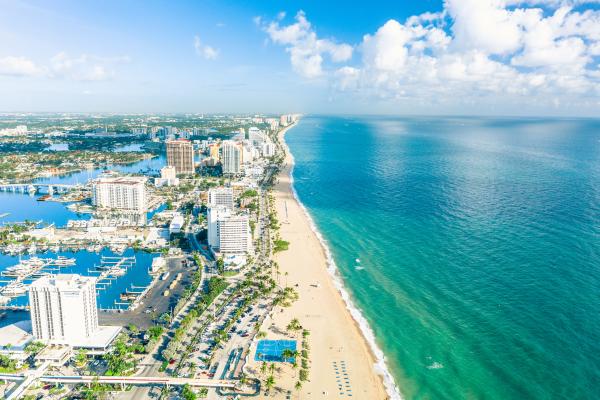 GREATER FORT LAUDERDALE, Fla. (May 7, 2020) – During this unprecedented time, Visit Lauderdale is unveiling ways it is working to inspire hope, plan for and support the recovery of the Greater Fort Lauderdale tourism industry, recognize acts of heroism, help people find the information they need about the area, provide compelling online learning for kids, and virtual entertainment for everyone.  
This challenge will not define us," says Stacy Ritter, President and CEO of Visit Lauderdale. "Our industry is resilient, and we are ready to begin marketing our destination to visitors as soon as it is deemed safe."                        
1.  Economic Support for Attractions, Museums, and Visitor Centers
Recognizing the difficulty placed on Greater Fort Lauderdale's tourism industry during the COVID-19 pandemic crisis, Visit Lauderdale has launched the 2020 Supplemental Tourism Place of Interest Sponsorship Program. Approved sponsorships of up to $20,000 will be awarded to qualifying Broward County tourist attractions, museums and welcome centers that provide services to and attract visitors from outside of Broward County. Retail establishments are not eligible. Application forms, available online at sunny.org/POIsponsorship, are being accepted now through 5 p.m. on May 20, 2020.
"When government and health officials lift restrictions to allow visitors to return, we want to help our attractions open their doors and promote their businesses," says Ritter. "We've worked hard during the pandemic to provide information and promotional support to our local tourism industry. Now we're in the position to be economic responders by using tourism dollars that would have gone to support some of the now-cancelled or postponed events through our tourism sponsorship program."
The supplemental sponsorship program, supported by the Broward County Board of County Commissioners, covers ongoing operational expenses and promotional efforts to help qualifying locations get back on their feet and ready to welcome visitors.
Learn more: Supplemental Place of Interest Sponsorship
2. Future in Focus Virtual Recovery Summit
Visit Lauderdale leaders shared key insights on current and upcoming marketing initiatives and gathered important feedback from hotels, attractions, restaurants, retailers and other tourism-supported businesses during the Future in Focus: Virtual Recovery Summit on Thursday, May 7. Find the link to watch the presentation and to fill out a survey for Broward County businesses here. Responses to the survey are helping shape an extensive recovery plan designed to ensure Greater Fort Lauderdale emerges stronger than before as we enter a new day of travel.
3. Recognize our Hometown Heroes
What is a hero? We think it's a person who exceeds all expectations in order to help others. They're doctors, nurses and first responders. They're public employees like bus drivers, airport and seaport workers. And they're restaurant and retail owners and employees, just to name a few. They're our neighbors, our friends, and our family. So, we invited the community to join us in recognizing those who give us hope when we're hopeless, courage when we're afraid, and a much-needed reminder that Home is Where the Heroes Are.
These Home is Where the Heroes Are stories are shared on the destination website and will be featured on social media and other media platforms. For example, the team at Fort Lauderdale's Xtreme Action Park – the largest indoor entertainment venue in Florida – donated food from the attraction's three restaurants to feed furloughed workers and homeless and vulnerable families. The team got together to pack and distribute a large donation of fresh produce for Feeding South Florida. Then, Hershey Foods heard about the produce donation and sent more than 1,000 ice cream cones, which the Xtreme Action Park team distributed to homeless families and to medical staff and patients at Joe DiMaggio Children's Hospital.
How to help: Share your nominations, stories and photos so we can tell the stories of the people doing good in the Greater Fort Lauderdale community. 
4. Connect our Hoteliers with Essential Lodgers
The Visit Lauderdale team is working behind the scenes to connect first responders and travelers categorized as "essential lodgers" with hotels that are remaining open throughout the pandemic. The current list of open hotels is shared with Broward County's Emergency Operation Center and Florida's State Emergency Response Team. Additionally, essential lodgers can search, find and book available rooms at the destination website sunny.org.
"Our group sales team is helping large and small groups of first responders in need of rooms and other services," says Ed Simon, Executive Vice President of Visit Lauderdale. "With construction underway on the long-planned $1 billion expansion of the Greater Fort Lauderdale/Broward County Convention Center, we had already shifted our focus to working with hotel contained groups. We're fortunate that we can support recovery teams that are here to help the community and bring some much-needed revenue to our hotels."
5. Promote our Restaurants and Pop-Up Markets
Visit Lauderdale's "Eat Local" campaign, our comprehensive list of local restaurants and other businesses offering takeout, drive-thru, curbside and delivery services that local residents and essential lodgers can use while practicing social distancing, is heavily spotlighted on social media. So far we've highlighted and individually tagged a long list of participating restaurants on our @VisitLauderdale Instagram and Facebook social media channels, resulting in more than 110,000 views to our audience of 40,000 Instagram followers and 255,000 Facebook followers. Check out our highlights on Instagram for the latest intel on hours, menus, specials on family dinners and cocktails, and more. Find the full list of more than 250 restaurants on the dining page at sunny.org.
With groceries and household provisions in scant supply, some savvy restaurants and bars have turned into pop-up community markets, highlighted in a sunny.org article and also shared through the "Eat Local" social media effort. For example, South Florida's oldest steakhouse, Tropical Acres in Dania Beach, has been reinvented as a drive-thru butcher shop with custom cuts of meat and seafood, and beachy-chic Beach House Pompano is offering a full range of grocery goods including a free roll of toilet paper with any $20 grocery purchase.
All the promotion is free for restaurants – signup is available here.
See also:
6. Keep the Kids Engaged and Learning
Need help keeping the kids focused on learning? The Visit Lauderdale Junior Ambassador free online learning program provides compelling, tourism-themed educational lessons for kids in grades three through five and six through eight that are filled with fun ways to learn about math, science, history, geography, the arts and more - all brought to life through locations and experiences available in Greater Fort Lauderdale. Kids that complete all the online subjects become Visit Lauderdale Junior Ambassadors.
"In normal times, the leisure travel sales team provides in-depth destination training about the many things to experience throughout Greater Fort Lauderdale to travel agents and tour operators," said Tracy Vaughan, Senior Vice President Tourism Sales. "They have a wealth of local knowledge they couldn't wait to share with kids that live right here in South Florida, as well as kids from around the work curious about what it's like to vacation here."
Local kids that become Junior Ambassadors will be provided with Greater Fort Lauderdale-themed postcards to send out as invites for friends and family to come visit – with them as the expert tour guide.
See also: Kid-Friendly Virtual Entertainment in Greater Fort Lauderdale.
7. Experience our Beaches, Attractions and Museums—Virtually
Teleport yourself to our sand and surf by checking out our live beach cam views. Gaze at the gorgeous blue and green shades of water, and if you're lucky, spot a sea turtle or maybe a manta ray cruising the surf.
Connect virtually with local museums, performing arts venues, attractions and more with videos and social media livestream features that give you a front row seat to past performances, attractions and tours at mainstays like Stranahan House, Butterfly World, Flamingo Gardens and more. Treat the kids to new Virtual Camp Discovery video experiences released every weekday from the Museum of Discovery and Science. 
Experience Greater Fort Lauderdale from the comfort of your sofa while getting inspiration on places to see on your visit. Check out a list of some of our favorite scenes and hotspots in a variety of movies and TV shows, from alligators in the Everglades to mermaids at the world-famous Wreck Bar.
Check out our list of movies and TV shows: Travel Around Greater Fort Lauderdale Without Ever Leaving Home.
8. Reduce Stress with Local Yoga and Fitness Instructors
Weights aren't dropping. Cycles aren't spinning. And the only public treadmills any of us are on are the corporate kind. Luckily, we have the internet. And gyms and studios around Greater Fort Lauderdale are helping us get our fit on and reduce stress while we wait for the COVID-19 crisis to pass. Some put their classes on their website. Others have YouTube channels. Either way, you can continue—or restart—your New Year's resolution. Check out our list of available yoga, meditation, fitness, and martial arts workouts you can do in living room. 
The visitors bureau's Northeast regional group sales team and the global leisure sales team have incorporated virtual wellness events to help maintain brand awareness and engage with clients. Programs include weekly Yoga & Zumba classes, Coffee Talk, and guided meditation.
9. Stay Informed and Share Community Resources
Visit Lauderdale's highest priority is the safety and well-being of visitors and residents. Find the latest information for visitors, residents and area tourism partners including details about open and closed businesses and recreational sites, stories and links to find engaging virtual tours and online learning experiences, open hotels, area restaurants offering takeout, pickup and delivery service and more at the COVID-19 Travel Resources page at sunny.org, along with the latest local, state and national information and resources are available to support the Greater Fort Lauderdale tourism industry. And we remind our industry partners and future visitors that now, more than ever, we truly are Greater Together.
See also: Local businesses can visit the Greater Fort Lauderdale Alliance's website for more helpful resources and links.
About Greater Fort Lauderdale
Greater Fort Lauderdale boasts an average year-round temperature of 77˚F and has 3,000+ hours of annual sunshine. Explore 4,000+ eateries, 300+ miles of navigable waterways, eight distinct beaches, a Greater Fort Lauderdale tourism industry thriving arts and culture scene, craft breweries, rooftop bars, outdoor adventure, and world-class shopping – all conveniently located in the center of South Florida. Made of up 31 municipalities, the destination boasts more than 35,000 lodging accommodations at a variety of hotels, luxury spa resorts and Superior Small Lodgings reflecting a cosmopolitan vibe. Upon arrival at FLL Airport (Fort Lauderdale-Hollywood International Airport), it is just five minutes to the beach, Port Everglades, the Broward County Convention Center and downtown. For trip planning inspiration, visit sunny.org and follow @VisitLauderdale.
About Visit Lauderdale

Visit Lauderdale, a.k.a. the Greater Fort Lauderdale Convention & Visitors Bureau (GFLCVB) is the tourism marketing organization for Broward County, Florida, where more than 13 million annual visitors support 180,000 direct and indirect tourism jobs and spend over $8 billion. The GFLCVB markets Greater Fort Lauderdale's community of 31 municipalities to a global audience of leisure and business travelers and books conventions into the Greater Fort Lauderdale/Broward County Convention Center and area hotels and resorts. The GFLCVB produces marketing and brand campaigns to keep the destination top-of-mind with travelers and maintains relationships with and hosts site tours for travel journalists, social media influencers, meeting planners, sports event planners, tour operators and travel agents. For more information about the destination, visit sunny.org and follow @VisitLauderdale on Facebook, Instagram, Twitter and YouTube.  
# # #
Editorial photos & video available for download.
Credit: Visit Lauderdale
Media Contacts: 
JoNell Modys 
Visit Lauderdale
Tel: 954-767-2412
Email: jmodys@broward.org
Ivonne MacMillan
Visit Lauderdale
Tel: 954-767-2408
E-mail: imacmillan@broward.org