Broward County's Black History Month Celebrated in Culture-Rich Experiences
Cultural Tours, Speaker Panels, Art Exhibits and Special Events
Throughout February and Beyond
GREATER FORT LAUDERDALE, Fla. (February 7, 2019) — The richly-rooted African American heritage throughout Broward County/Greater Fort Lauderdale is never more evident than in February, when the destination's neighborhoods, museums and culture centers join to celebrate Black History Month.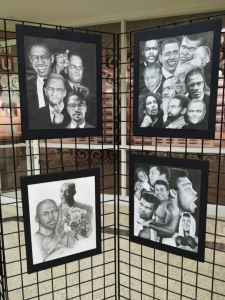 Against a back drop of this year's national "Black Migrations" theme, Broward County's Black History month celebrates the area's transformation into a cultural melting pot lauded for its diversity and popularity with Black travelers for vacations and family reunions.    
Central to Broward's black history is the  African American Research Library and Cultural Center, only one of three in the country. AARLCC, along with other cultural hubs and education institutions, will be hosting a lineup of events throughout February.  Highlights include:
The Sistrunk A-Fair: We Love Art Too | February 1-28:  Curated by Art N Soul, the We Love Art Too exhibit at the African American Research Library and Cultural Center features original works by South Florida's Black artists.
 
House of Slaves and Door of No Return: Photographic Exhibit | February 1-28: Broward College's North Campus will showcase a rare photographic exhibition of famous slave castles, forts and dungeons in West Africa by artist and historian Edmund Abaka.
 
Black History Month Block Party | February 16: Free community event offering regional live entertainment, performances, food trucks, cultural demonstrations, raffles and street hockey with the Florida Panthers.
 
"Soul on Ice" Movie and Panel Discussion | February 22
 
Nelson Mandela Tribute Festival | February 26: Broward College's Central Campus will commemorate the legacy of Nelson Mandela with a festival featuring a timeline of his life, complimentary food and music.
Historic Neighborhoods & Year-round Attractions
Sistrunk Corridor
African roots are saluted at the entrance to the Sistrunk Corridor, the center of Fort Lauderdale's oldest Black neighborhood, named after the county's first Black doctor – James Franklin Sistrunk. Visitors are greeted by a symbolic sculpture saluting the memory of African American elders who helped found, shape, and maintain the community during difficult times in its formative years. Adjacent to downtown Fort Lauderdale, this is part of the emerging Destination Sistrunk Historical and Cultural District, an innovative zone of projects planned for economic revitalization that aim to promote historical preservation and the arts. The growing project also features a collection of wayfinding markers such as one installed at the Mount Hermon Church, the county's oldest continuing Black congregation.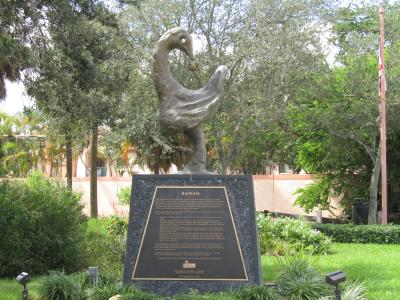 The symbolic Sankofa sculpture located at the entrance of the Sistrunk Corridor salutes the memory community founders.
Northwest Gardens
The Northwest Gardens neighborhood, situated near the historical Sistrunk Boulevard offers affordable sustainable housing complexes with urban farms where visitors can attend tours, or even plan for multigenerational volunteer and service-learning experiences while in town. The Megaphone, an outdoor performance venue, presents micro-festivals with local talent and at the ArtHouse, a team of culturally-diverse professional artists offers hands-on classes, workshops, and special events at a renovated neighborhood residence.
Dr. Von D. Mizell-Eula Johnson State Park
The Dr. Von D. Mizell-Eula Johnson State Park, newly-renamed to honor legendary Civil Rights Movement leaders, is a popular recreational coastal attraction located in Dania Beach where Bahamian pioneers celebrate the heritage they share with the sister-community of Liberia in neighboring Hollywood. Once the county's designated "colored beach," the park is now a popular location for swimming, fishing, boating, hiking, bicycling and picnicking, offering a haven for visitors to escape and reconnect with nature. 
Cultural Mecca in the Making
Greater Fort Lauderdale continues to build on its heritage to support the development of ongoing and future projects for cultural tourism. In the suburban city of Miramar, which boasts one of the largest Caribbean communities in the county and the first Haitian-American commission member, the destination is working with the American Tennis Association (ATA), the oldest African American sports organization to open the National Tennis Center. The multipurpose complex will serve as tennis education and training facility and museum to honor Black history in the sport, and is set to open at Miramar Regional Park in 2020.
# # #
About Greater Fort Lauderdale
From the seagrass to the sawgrass, Greater Fort Lauderdale, located in Broward County, boasts more than 34,000 lodging accommodations at a variety of hotels, luxury spa resorts, and Superior Small Lodgings reflecting a vibrant cosmopolitan vibe. Visitors enjoy 23 miles of Blue Wave certified beaches, discover 300+ miles of inland waterways that run from the Intracoastal Waterway to the Everglades, dine at thousands of restaurants and eateries, get immersed in a thriving arts and culture scene and indulge in top shopping.
For more information, contact the Greater Fort Lauderdale Convention & Visitors Bureau at (800) 22-SUNNY or visit sunny.org. Get social and engage with Greater Fort Lauderdale on social media channels including Facebook, Twitter and Instagram: @visitlauderdale.
Media Contact: 
Ivonne MacMillan
Greater Fort Lauderdale CVB 
Tel: 954-767-2408
E-mail: imacmillan@broward.org