CARNAVAL-THEMED 2019 PRIDE FORT LAUDERDALE TO
INCLUDE FIRST PARADE EVER ON FORT LAUDERDALE BEACH
 "American Idol" Finalist Ada Vox and "RuPaul's Drag Race" Judge Todrick Hall to Headline Festival;
Eyewitness to Historic Stonewall Riots 50 Years Ago to be Honored at Parade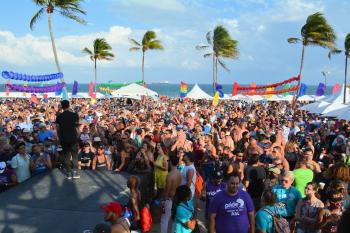 Photo Caption: More than 50,000 people celebrated LGBT+ Pride at the
 2018 Pride Fort Lauderdale festival on Fort Lauderdale Beach.
GREATER FORT LAUDERDALE, Fla. (January 18, 2019) — More than 120,000 visitors from the U.S. and beyond are expected at the 42nd annual Pride Fort Lauderdale festival, Thursday, Feb. 21 through Sunday, Feb. 24 in Greater Fort Lauderdale.
The carnaval-themed festival will include the first parade ever held along iconic Fort Lauderdale Beach on Saturday, Feb. 23. One of the grand marshals will be Miss Major Griffin-Gracy, a transgender activist who was in the Stonewall Inn in Greenwich Village during the historic 1969 police raid that sparked the modern LGBT+ rights movement.
"American Idol" fan favorite Ada Vox, who also made history as the first drag queen to advance to the final 10 contestants, and singer, choreographer and "RuPaul's Drag Race" judge Todrick Hall will headline the festival on Sunday, Feb. 24.
"Diversity is in Greater Fort Lauderdale's DNA; it's who we are. I'm so proud that Pride Fort Lauderdale's colorful theme represents how diverse our destination is, and demonstrates to the world how welcoming and inclusive we are," said Richard Gray, Vice President of Diversity and Inclusion of the Greater Fort Lauderdale Convention & Visitors Bureau.
The sights and sounds of the Caribbean and Brazil will come alive throughout the festival. The 2019 Carnaval theme pays tribute to the diverse ethnic communities that call Greater Fort Lauderdale home and to the Mardi Gras/Carnaval season.
"This year's Pride Fort Lauderdale is a nod to how inclusive Greater Fort Lauderdale is and we are excited to see everyone come together at this historic gathering, as we throw the first parade ever on Fort Lauderdale Beach," said Miik Martorell, President of Pride Fort Lauderdale.
Admission is FREE for Fort Lauderdale Beach main events on Saturday, Feb. 23 and Sunday, Feb. 24. All proceeds will go toward funding LGBT+ youth scholarships and local community organizers.
For more information about the 2019 Pride Fort Lauderdale and to view the full schedule of events, visit PrideFortLauderdale.org.
The Greater Fort Lauderdale Convention & Visitors Bureau has been proactively targeting and welcoming the LGBT+ market since 1996, when it became the first Convention & Visitors Bureau with a gay-centric vacation planner, and dedicated website on a CVB homepage. Since then, the destination has continued to break down barriers and facilitate essential visibility for the LGBT+ community at large. The destination now welcomes 1.5 million LGBT+ travelers annually, spending $1.5 billion. It also features one of the largest Pride Centers in the country, the first and only World AIDS Museum and Education Center, and is home to the Stonewall National Museum & Archives, one of the only permanent spaces in the U.S. devoted to exhibitions relating to LGBT+ history and culture. Most recently, Greater Fort Lauderdale opened the areas first LGBT+ Visitors Center in Wilton Manors.
###
About Greater Fort Lauderdale
From the seagrass to the sawgrass, Greater Fort Lauderdale, located in Broward County, boasts more than 34,000 lodging accommodations at a variety of hotels, luxury spa resorts, and Superior Small Lodgings reflecting a vibrant cosmopolitan vibe. Visitors enjoy 23 miles of Blue Wave certified beaches, discover 300+ miles of inland waterways that run from the Intracoastal Waterway to the Everglades, dine at thousands of restaurants and eateries, get immersed in a thriving arts and culture scene and indulge in top shopping.
For more information, contact the Greater Fort Lauderdale Convention & Visitors Bureau at (800) 22-SUNNY or visit sunny.org. Get social and engage with Greater Fort Lauderdale on social media channels including Facebook, Twitter and Instagram: @VisitLauderdale.
Media Contact: 
Ivonne MacMillan
Greater Fort Lauderdale CVB 
Tel: 954-767-2408
E-mail: imacmillan@broward.org