EVENT CELEBRATES $1 BILLION EXPANSION OF THE GREATER FORT LAUDERDALE / BROWARD COUNTY CONVENTION CENTER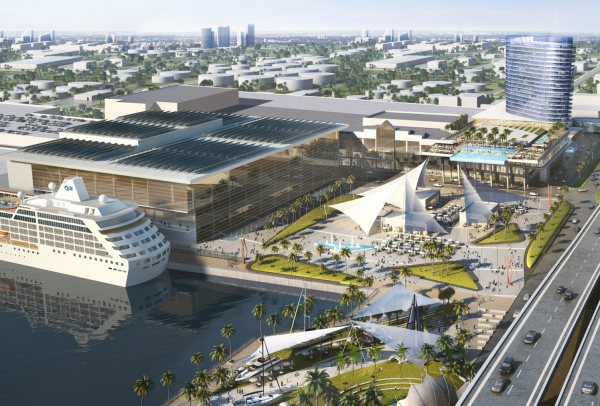 Elected Officials and Community Leaders Gather to Shine Light on
Project's Benefit to the Community
GREATER FORT LAUDERDALE, Fla. (January 17, 2020) — Elected officials and community leaders from the hospitality industry from throughout Broward County gathered the afternoon of Friday, January 17 at the Greater Fort Lauderdale/Broward County Convention Center for an event celebrating the $1 billion Convention Center expansion and Headquarters Hotel project.
Those attending included the Broward County Board of County Commissioners; Dale Holness, Mayor of Broward County; the Fort Lauderdale City Commission, Dean Trantalis, Mayor of Fort Lauderdale; Bertha Henry, Broward County Administrator; Stacy Ritter, President & CEO, Greater Fort Lauderdale Convention & Visitors Bureau; officials from many of Broward County's 31 municipalities; and community leaders from throughout Broward County, including the hospitality industry.
"We are gathering to thank the many government, industry and community leaders who have worked hard to make this project a reality," said Broward County Mayor Dale Holness.  "Years of careful planning have brought us here, and we are celebrating the fact that this expansion will boost the local economy and create more than 1,000 new jobs."
"With increased meeting space, 800 hotel rooms, new dining concepts and more, we expect over $200 million of additional consumer activity in the market each year," added Bertha Henry, County Administrator.
A highlight of the expanded convention center will be the 6-acre outdoor waterfront plaza. Event attendees got a 360-degree sneak peek at the reimagined plaza and the rest of the project using new technology now available on Facebook and Instagram. Event attendees transported themselves to the future through an augmented reality portal.
"Greater Fort Lauderdale listened to the needs of meeting planners to create the convention center experience of the future," said Stacy Ritter, President and CEO of the Greater Fort Lauderdale Convention & Visitors Bureau. "When the expansion is complete, Greater Fort Lauderdale will be able to attract some of the world's largest meetings, some bringing more than 8,000 total hotel rooms nights per event."
The expansion will grow the existing 600,000 sq. ft. convention center to 1.2 million sq. ft. There will be 350,000 sq. ft. of exhibition space, 132,000 sq. ft. of ballroom space across four ballrooms, including the spectacular 65,000 sq. ft. waterfront ballroom. Total meeting space will measure 215,000 sq. ft. with 50 breakout rooms, along with 220,000 sq. ft. of flexible space and the expansive waterfront plaza.
The new 800-room headquarters hotel will feature a rooftop bar with a spectacular waterfront view, multiple dining venues, 73,000 sq. ft. of meeting space, a spa and fitness center and versatile outdoor event space.
The convention center expansion and headquarters hotel projects, both of which will be LEED Gold-certified with the latest technology and sustainability initiatives, will be the centerpiece of the full convention center district enhancement project that will include outdoor event space, exceptional restaurants, premier shopping, arts and cultural attractions, and more.
###
About Greater Fort Lauderdale
Greater Fort Lauderdale, also known as the "Venice of America," boasts an average year-round temperature of 77˚F and has 3,000 hours of annual sunshine. Explore 4,000+ eateries, 300+ miles of navigable waterways, eight distinct beaches, a thriving arts and culture scene, craft breweries, rooftop bars, outdoor adventure, and world-class shopping – all conveniently located in the center of South Florida. Made of up 31 municipalities, the destination boasts more than 35,000 lodging accommodations at a variety of hotels, luxury spa resorts and Superior Small Lodgings reflecting a cosmopolitan vibe. Upon arrival at FLL Airport (Fort Lauderdale-Hollywood International Airport), it is just 5 minutes to the beach, Port Everglades, the Broward County Convention Center and downtown. For trip planning inspiration, visit the Greater Fort Lauderdale Convention & Visitors Bureau at sunny.org and follow @visitlauderdale.
Link to expansion project renderings: https://www.dropbox.com/sh/m3y97j2vvle7896/AAAQqwrWkySra0-QUCnJ52f2a?dl=0
Media Contacts: 
JoNell Modys
954-767-2412
jmodys@broward.org
Ivonne MacMillan
954-767-2408
imacmillan@broward.org