GREATER FORT LAUDERDALE'S 2ND ANNUAL LGBT+ THINK TANK ADDRESSES IMPORTANCE OF DIVERSITY AND INCLUSION
IN CORPORATE AMERICA, ASSOCIATIONS AND TRAVEL COMPANIES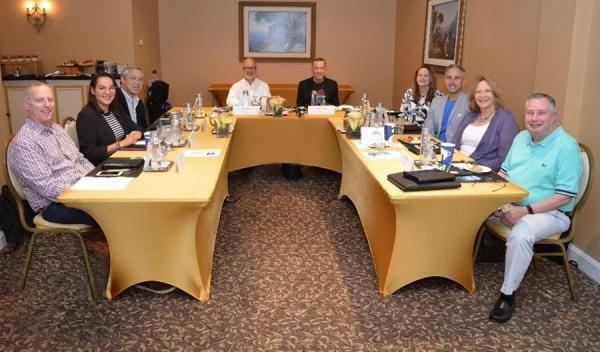 (LGBT+ Think Tank participants at Greater Fort Lauderdale's Riverside Hotel)
Photo credit: SRL Media, Inc.
GREATER FORT LAUDERDALE, Fla. (Sept. 25, 2018) —The Greater Fort Lauderdale Convention & Visitors Bureau (GFLCVB) held its 2nd Annual LGBT+ Think Tank on September 5-6 at The Riverside Hotel in Fort Lauderdale, Fla. eight leaders from corporate, association and travel companies came together to discuss the next steps to work with Corporate America and destinations to address diversity and inclusion.
"Greater Fort Lauderdale has long been known for its beautiful sandy beaches, but we also want to be known for our meetings and convention offerings, especially for those companies with an ethical position on diversity and inclusion," said Richard Gray, Vice President, LGBT+ market for the Greater Fort Lauderdale Convention & Visitors Bureau.  
 Participating travel experts:
Richard Gray – Vice President, LGBT+, Greater Fort Lauderdale Convention & Visitors Bureau
Anthony Cosenza – Director Travel Agency Sales, Enterprise Holdings
Lori Fox – CEO, Lori Fox Consulting
Sabrina Kent – Chief of Staff, National LGBT Chamber of Commerce (NGLCC)
David Nelson – IT Shipboard Business Relations Manager, Royal Caribbean
Charlie Rounds – Travel Editor, GayTravel.com
Lee Rubin – Sr. Manager, Diversity and Inclusion, Citrix
Richard Yep – CEO, American Counseling Association
The Think Tank leaders identified where Corporate America and Association leaders are choosing to host their meetings and trainings each year. It was overwhelmingly clear that price and convenience are high priorities for meetings decision-makers, though diversity and inclusion are gaining as factors in choosing a destination.
"As a beach destination, Greater Fort Lauderdale needs to start focusing on companies that have a strong D & I policy, as this is a main destination differentiator and a big message that all group attendees will feel welcomed, safe and accepted," said Richard Yep, CEO, American Counseling Association.
A strong communications strategy for companies was discussed, as not all franchise establishments of major brands are required to adhere to the parent company's corporate policies. A brand is the most important thing that a company owns. The group strongly urged that all companies should live their values and ensure all employees follow diversity and inclusion policies.
"Corporate leadership is important and it starts right at the top, with companies that stand up to do what's right, and treat their employees equally regardless of gender or how they identify are being recognized as preferred brands by the LGBT+ community and allies, including millennials," said Sabrina Kent, Chief of Staff, NGLCC.
During the discussion, it was identified that key motivators for group attendees and their decisions to extend their travels into bleisure trend of extending business trips for pleasure, included resort facilities, dining, and nightlife, water activities, sightseeing tours, diversity, and inclusion, as well as safety and relaxed atmosphere.
"As a resident of Fort Lauderdale, I never imagined I could be in a more warm and welcoming city, I am living this diversity every day and I couldn't be happier to call this my home," said Tony Cosenza, Director of Travel Agency Sales Global, Enterprise Holdings.
The Greater Fort Lauderdale Convention & Visitors Bureau has been proactively targeting and welcoming the LGBT+ market since 1996, when it became the first Convention & Visitors Bureau with a gay-centric vacation planner, and dedicated website on a CVB homepage. Since then, the destination has continued to break down barriers and facilitate essential visibility for the LGBT+ community at large. The destination now welcomes 1.5 million LGBT+ travelers annually, spending $1.5 billion. It also features one of the largest Pride Centers in the country, the first and only World AIDS Museum and Education Center, and is home to the Stonewall National Museum & Archives, one of the only permanent spaces in the U.S. devoted to exhibitions relating to LGBT history and culture. Most recently, Greater Fort Lauderdale opened the areas first LGBT+ Visitors Center.
# # #
About Greater Fort Lauderdale
From the seagrass to the sawgrass, Greater Fort Lauderdale, located in Broward County, boasts more than 34,000 lodging accommodations at a variety of hotels, luxury spa resorts, and Superior Small Lodgings reflecting a vibrant cosmopolitan vibe. Visitors enjoy 23 miles of Blue Wave certified beaches, discover 300+ miles of inland waterways that run from the Intracoastal Waterway to the Everglades, dine at thousands of restaurants and eateries, get immersed in a thriving arts and culture scene and indulge in top shopping.
For more information, contact the Greater Fort Lauderdale Convention & Visitors Bureau at (800) 22-SUNNY or visit sunny.org. Get social and engage with Greater Fort Lauderdale on social media channels including Facebook, Twitter and Instagram: @VisitLauderdale.
 
PRESS CONTACT:
Ivonne MacMillan, Greater Fort Lauderdale CVB - 954-767-2408 / imacmillan@broward.org
Finn Partners - 212-715-1600 / gfl@finnpartners.com