GREATER FORT LAUDERDALE CONVENTION & VISITORS BUREAU WELCOMES MICHAEL POUEY TO CONVENTION SALES TEAM AS VICE PRESIDENT OF GROUP SALES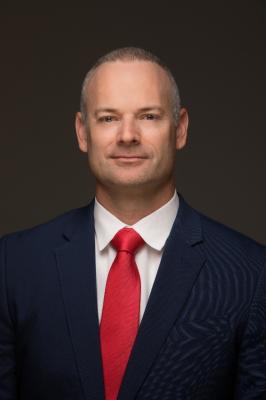 Michael Pouey, Vice President of Group Sales at the GFLCVB
GREATER FORT LAUDERDALE, Fla. (February 13, 2019) —The Greater Fort Lauderdale Convention & Visitors Bureau (GFLCVB) welcomes Michael Pouey to the Convention Sales Team as the new Vice President of Group Sales.  In this capacity, Pouey will lead the nationally deployed convention sales team to deliver significant group and convention business for Broward County hotels and the Greater Fort Lauderdale / Broward County Convention Center.  Pouey will also directly serve Greater Fort Lauderdale's clients located in the Western United States, as the CVB expands it's sales reach.
"Mike is an experienced leader in the hospitality industry and has an in-depth knowledge and understanding of our destination and our primary group markets.  We are thrilled that he will be spearheading our efforts to grow MICE business for our Convention Center and hotel community", said Ed Simon, Senior Vice President, Convention Sales & Services, Greater Fort Lauderdale Convention & Visitors Bureau.
Pouey brings 20 years of hospitality and leadership experience to the GFLCVB. An accomplished sales executive, he most recently led the sales and event team at the 589-room Hilton Fort Lauderdale Marina, a position he held since 2013 where he directed a team of fourteen. In 2015 and 2016, he achieved the "Circle of Excellence" sales team of the year award for Hilton branded hotels.
Previously, he was Area Director of Group Sales for the Bahia Mar Fort Lauderdale Beach Resort and Hilton Fort Lauderdale Marina. Pouey's experience also includes serving as senior sales account executive with LXR Resorts and the Marriott Harbor Beach Resort & Spa. He began his career at the Renaissance Orlando at Seaworld.
Pouey has a diverse cultural background. He was born in West Africa and was raised in Europe and numerous Latin American and Caribbean nations. He speaks fluent French. Pouey received his bachelor's degree from Florida International University's School of Hospitality and a master's in business administration from Nova Southeastern University.
###
About Greater Fort Lauderdale
From the seagrass to the sawgrass, Greater Fort Lauderdale, located in Broward County, boasts more than 34,000 lodging accommodations at a variety of hotels, luxury spa resorts, and Superior Small Lodgings reflecting a vibrant cosmopolitan vibe. Visitors enjoy 23 miles of Blue Wave certified beaches, discover 300+ miles of inland waterways that run from the Intracoastal Waterway to the Everglades, dine at thousands of restaurants and eateries, get immersed in a thriving arts and culture scene and indulge in top shopping.
For more information, contact the Greater Fort Lauderdale Convention & Visitors Bureau at (800) 22-SUNNY or visit sunny.org. Get social and engage with Greater Fort Lauderdale on social media channels including Facebook, Twitter and Instagram: @VisitLauderdale.
Media Contact: 
Ivonne MacMillan
Greater Fort Lauderdale CVB 
Tel: 954-767-2408
E-mail: imacmillan@broward.org