GREATER FORT LAUDERDALE BRINGS LIVE PAINT EXPERIENCE
TO CHICAGO TRAVEL & ADVENTURE SHOW FEBRUARY 8TH AND 9TH
Attendees Can Enter to Win an ISLE Versa Paddle Board Live Painted During the Show
by Fort Lauderdale Mural Artist Lori Pratico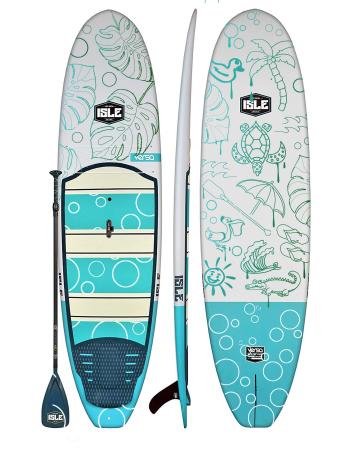 GREATER FORT LAUDERDALE, Fla. (February 3, 2020) — Attendees at this year's Chicago Travel & Adventure Show can visit the Greater Fort Lauderdale booth (#1024) for a chance to win a one-of-a-kind, artistically painted ISLE Versa paddle board. The drawing for the paddle board that will be live painted during the show by Fort Lauderdale artist Lori Pratico will be made by Peter Greenberg, Emmy Award-Winning Investigative Reporter and Producer and CBS News Travel Editor on Sunday afternoon, February 9th.
Greater Fort Lauderdale is best known for its 23-miles of beautiful beaches and 300+ miles of navigable waterways, earning it the nickname "Venice of America." Recent visitors are noticing the entire region is now awash with color thanks to the bold and colorful mural art seen on many walls and interior spaces at the trendiest bars, breweries and businesses from downtown Fort Lauderdale to Hollywood to Pompano Beach and beyond.
"Prominent Fort Lauderdale mural artist Lori Pratico will 'Live Paint' the 10.5 ft. ISLE Versa paddle board during show hours on Saturday and Sunday," said Tracy Vaughn, Senior Vice President Tourism & Travel Industry Sales for the Greater Fort Lauderdale Convention & Visitors Bureau. "Posters of Lori's many wildly colorful urban artworks will enhance the décor of the Greater Fort Lauderdale booth - #1024 – to bring the destination's artistic side to life for show attendees."
Pratico's Live Paint exhibition is the first of the destination's 2020 Creators Exchange program, which brings artists from other U.S. and international locations to paint murals and other works in Greater Fort Lauderdale and takes local artists to bring the area's art to life in other cities. Pratico's highly sought-after artwork brings the total value of the paddle board to approximately $2,500.
Visitors to the Greater Fort Lauderdale booth (#1024) at this year's Chicago Travel and Adventure Show will learn about what to see and do in the destination, which boasts an average year-round temperature of 77˚F and has 3,000 hours of annual sunshine. Explore 4,000+ eateries, 300+ miles of navigable waterways, eight distinct beaches, a thriving arts and culture scene, craft breweries, rooftop bars, outdoor adventure, and world-class shopping – all conveniently located in the center of South Florida. Made of up 31 municipalities, the destination boasts more than 35,000 lodging accommodations at a variety of hotels, luxury spa resorts and Superior Small Lodgings reflecting a cosmopolitan vibe. Upon arrival at FLL Airport (Fort Lauderdale-Hollywood International Airport), it's just five minutes to the beach, Port Everglades, the Greater Fort Lauderdale/Broward County Convention Center and downtown. For trip planning inspiration, visit the Greater Fort Lauderdale Convention & Visitors Bureau at www.sunny.org and follow @visitlauderdale.
###
Media Contact: 
JoNell Modys, Tel: 954-767-2412
E-mail: jmodys@broward.org