Greater Fort Lauderdale Celebrates National Tourism Week 2019 With Robust Hospitality Development and Tourism Growth
SUNsational Service Courtesy Awards Mark 30th Anniversary with Heartwarming Stories of Exceptional Service by Hospitality Professionals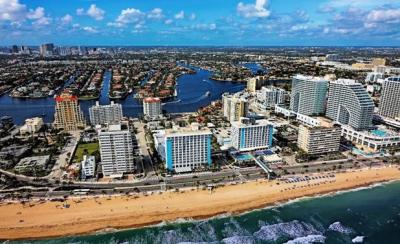 (Photo credit: Len Kaufman)
GREATER FORT LAUDERDALE, Fla. (May 8, 2019) – With unprecedented investment in hospitality-industry infrastructure, a boom in hotel development and luxury sector growth, the tourism landscape for Greater Fort Lauderdale has never been stronger. Aligning with the 36th annual National Travel and Tourism Week (May 5-11, 2019) theme "Travel Matters," the Greater Fort Lauderdale Convention & Visitors Bureau recognized today what the destination's transformation means for those visiting and living in a top vacation spot before more than 500 industry partners at its annual SUNsational Service Courtesy Awards luncheon.    
"This is the most exciting and amazing time for the Greater Fort Lauderdale brand, and we are primed for a bright future," said Stacy Ritter, president, and CEO of the Greater Fort Lauderdale Convention & Visitors Bureau. "The destination is growing at a phenomenal rate, and the additions to our skyline coupled with an enviable reputation for diversity and inclusiveness, are major contributors to our success as an attractive live, work, play environment. Tourism has never been better, and we are seeing growth across our multi-sector hospitality industry and in every part of the county, fueling jobs and a positive economic impact."
UPSCALE ACCOMMODATIONS
New destination hotel offerings are shifting toward luxury, upscale, and midscale space. More than 4,500 hotel rooms are projected to open county-wide through 2024, according to statistics from the Greater Fort Lauderdale Alliance, the county's economic development organization. In all, the county currently has more than 34,000 hotel rooms.
Notable lodging projects include the opening of the Conrad Fort Lauderdale Beach, multi-million-dollar renovations at the W Fort Lauderdale and to The Diplomat Beach Resort, the addition of The Dalmar to downtown Fort Lauderdale, and the highly-anticipated 2020 opening of The Four Seasons Hotel & Private Residences. 
SUNSATIONAL SERVICE
The National Tourism Day event also marked the 30th anniversary of its SUNsational Service Courtesy Awards that recognize Broward County's finest frontline hospitality professionals who deliver outstanding service to millions of visitors in the destination. Over the course of the annual awards, more than 3,000 workers at hotels, transportation, parks and recreation, and attractions have been nominated. 
BUILDING INFRASTRUCTURE FOR GROWTH
Multi-billion-dollar public and private sector infrastructure programs are adding value to Broward County's visitor appeal. Among the projects:
The Greater Fort Lauderdale/Broward County Convention Center Expansion. Broward County is investing $900 million to rebuild and expand the convention center and add an 800-room headquarters hotel and visitors' center.  The new facility will offer the MICE industry over a million square feet of indoor and outdoor space, including 350,000 square feet of contiguous exhibit space, a new 65,000-square-foot ballroom and a waterfront setting to attract high-rated events and gatherings. 
Port Everglades cruise traffic. As the third-largest cruise port in the world, Port Everglades continues to expand to accommodate new ships, including the addition of a $120 million terminal for Celebrity Cruise Lines' new Celebrity Edge – one of the most anticipated ship launches in 2018. In all, the port serves nine cruise lines and more than 40 ships. Traffic has grown in kind. In 2008, the port handled 2.6 million passengers. Last year, it topped 3.89 million with anticipation of seven million passengers annually within 20 years.
Fort Lauderdale-Hollywood International Airport. More than $3 billion in capital improvements – an 8,000-foot runway lengthening in 2014, and new concourses and U.S. Customs facilities – are fueling the nation's fastest-growing airport. Fort Lauderdale-Hollywood International Airport saw some 35.96 million passengers in 2018, up 10 percent from the year prior. Of those, 27.35 million were domestic passengers. In all, domestic air arrivals were up 8.2 percent for the year, compared to a 7.2 percent increase from the preceding year, with international air traffic up by 8.6 million, or 19.8 percent – for the fifth straight year of international growth. In the past two decades, the airport has been rated the most affordable in the region, offering the lowest average round-trip ticket price of any South Florida airport, notes the U.S. Bureau of Transportation Services.
Brightline. The state's only high-speed passenger rail service today connects downtown Fort Lauderdale with downtown Miami 30 minutes to the south and downtown West Palm Beach equidistant to the north. Recently acquired by Virgin Trains, Brightline is contributing to an influx of visitors to nearby emerging neighborhoods such as FATVillage (Fashion, Art, Technology), and MASS District (Music, Arts South of Sunset), featuring galleries, boutiques, cafes, nightlife and outdoor art, and the downtown Riverwalk Arts & Entertainment District.   
"It is exciting to see how hospitality, a legacy industry sector for Greater Fort Lauderdale, has matured as our community continues to grow," said Ritter. "The first National Tourism Week was held in 1984 as the seeds of a new future for Greater Fort Lauderdale were beginning to germinate. That vision is here today with a transformation almost like no other in the country." 
###
About Greater Fort Lauderdale
From the seagrass to the sawgrass, Greater Fort Lauderdale, located in Broward County, boasts more than 34,000 lodging accommodations at a variety of hotels, luxury spa resorts, and Superior Small Lodgings reflecting a "beach chic" vibe. Visitors enjoy 23 miles of Blue Wave certified beaches, discover 300+ miles of inland waterways that run from the Intracoastal Waterway to the Everglades, dine at thousands of restaurants and eateries, get immersed in a thriving arts and culture scene and indulge in top shopping.
For more information, contact the Greater Fort Lauderdale Convention & Visitors Bureau at (800) 22-SUNNY or visit sunny.org. Get social and engage with Greater Fort Lauderdale on social media channels including Facebook, Twitter, Instagram and Pinterest: @visitlauderdale.
Media Contact: 
Ivonne MacMillan
Greater Fort Lauderdale CVB 
Tel: 954-767-2408
E-mail: imacmillan@broward.org