GREATER FORT LAUDERDALE CONVENTION & VISITORS BUREAU AND CULTURAL HERITAGE ALLIANCE FOR TOURISM, INC. TO CO-HOST 2ND ANNUAL SYNERGY SUMMIT FOR CULTURAL & HERITAGE TOURISM
Dynamic Conference Gathers Tourism Industry Professionals, Small Business Owners to Explore Cultural & Heritage Tourism as an Economic Driver for Fueling Communities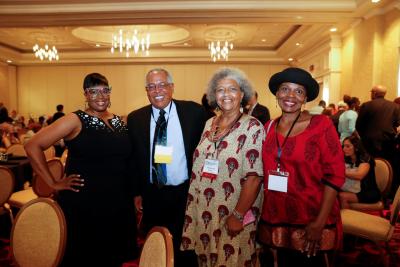 Pictured above (L-R): Stephanie M. Jones, President, CHAT, Inc.; Albert Tucker, Vice President of Multicultural Business Development, GFLCVB; DeAnne Connolly Graham, President, ROI Media Consultants, Inc. and Dr. Kitty Oliver, local author and historian gathered at the 2018 Synergy Summit.
FORT LAUDERDALE, Fla. – (April 17, 2019) – The 2nd Annual Synergy Summit for Cultural & Heritage Tourism is returning to Greater Fort Lauderdale, on May 9-11, 2019, in tandem with National Travel & Tourism Week. The two-day Summit, presented by the Greater Fort Lauderdale Convention & Visitors Bureau (GFLCVB) and in partnership with the Cultural Heritage Alliance for Tourism, Inc. (CHAT), will bring together more than 200 hospitality and tourism industry leaders, small businesses, cultural arts institutions and artists to network, explore opportunities for collaboration and form strategic partnerships to strengthen local tourism ecosystems.
"We are thrilled to again partner with CHAT to showcase the richness of our cultural attractions and create valuable connections with the tourism industry," says Albert Tucker, Vice President of Multicultural Business Development, Greater Fort Lauderdale Convention & Visitors Bureau. "For small businesses, this is a wonderful opportunity to learn about the financial benefits of heritage tourism and the potential to create jobs within their communities."
The Summit provides professional development for industry representatives to gain more knowledge on local cultural and heritage tourism assets found in many of the culturally diverse communities throughout Broward County/Greater Fort Lauderdale as well as across the state. Industry leaders will learn to leverage cultural heritage tourism – the fastest growing travel segment – to drive visitors and profits to their businesses. In addition, city planners and cultural agencies from municipalities and county governments will gain strategic insight to market cultural and heritage tourism programs to attract travelers to their destinations.
"Building on the momentum of the 2018 Summit, our intent is to bring together individuals of diverse backgrounds and business interests, expand conversations about cultural & heritage tourism across the State of Florida and nationally, as well as educate attendees about how culture and history are key factors in revenue generation for destinations and small businesses," says Stephanie M. Jones, President & CEO of Cultural Heritage Alliance for Tourism, Inc. and Summit Producer.
The program will open with a plenary session featuring keynote speaker, Roger Dow, President and CEO of the U.S. Travel Association, as he discusses the role and the importance of cultural and heritage tourism in the United States.
A dynamic line-up of local and regional speakers will lead panel conversations on tourism topics such as The Buck Starts Here! A Chat with State Legislators Who Influence How & Where Tourism Dollars are Spent. The panel will be moderated by Stacy Ritter, President and CEO, Greater Fort Lauderdale Convention & Visitors Bureau. Confirmed panelists include state Rep. Bobby DuBose, state Rep. Barbara Watson, and state Rep. Dotie Joseph.
Summit attendees will also hear from the first African American to open a hostel in the U.S. (Deidre Mathis); the first entrepreneur to introduce culinary tours to the Miami market (Grace Della); the youngest hoteliers in South Florida to open a Bed & Breakfast in a heritage neighborhood (Akino West & Jamila Ross); and the influencer who has garnered a Facebook following of almost half a million Black world travelers (Reggie Cummings).
On Saturday, May 11, the Summit will conclude with a cultural heritage tour showcasing cultural assets and the rich history throughout Greater Fort Lauderdale.
For more information on the summit including a complete list of scheduled events and speakers and to register, visit www.culturalheritagesummit.com.
###
About Greater Fort Lauderdale
From the seagrass to the sawgrass, Greater Fort Lauderdale, located in Broward County, boasts more than 34,000 lodging accommodations at a variety of hotels, luxury spa resorts, and Superior Small Lodgings reflecting a vibrant cosmopolitan vibe. Visitors enjoy 23 miles of Blue Wave certified beaches, discover 300+ miles of inland waterways that run from the Intracoastal Waterway to the Everglades, dine at thousands of restaurants and eateries, get immersed in a thriving arts and culture scene and indulge in top shopping.
For more information, contact the Greater Fort Lauderdale Convention & Visitors Bureau at (800) 22-SUNNY or visit www.sunny.org. Get social and engage with Greater Fort Lauderdale on social media channels including Facebook, Twitter and Instagram: @visitlauderdale.
About Cultural Heritage Alliance for Tourism, Inc.
The Cultural Heritage Alliance for Tourism, Inc. is a tourism and business development company working to enhance the business and tourism capacity of small businesses and attractions in heritage neighborhoods and multicultural communities. CHAT creates opportunities to engage and increase participation of small businesses, local attractions and artists in their local tourism ecosystems which ultimately helps to strengthen and sustain tourism statewide. CHAT's initiatives seek to foster diversity, inclusion and collaboration across city, county and causeway lines. Learn more at www.culturalheritagesummit.com, www.chatsouthflorida.com and on social media: @chatsummit and @chatsouthflorida.
Media Contact: 
Ivonne MacMillan
Greater Fort Lauderdale CVB 
Tel: 954-767-2408
E-mail: imacmillan@broward.org