GREATER FORT LAUDERDALE CONVENTION & VISITORS BUREAU WELCOMES KARA FRANKER,
SENIOR VICE PRESIDENT OF MARKETING & COMMUNICATIONS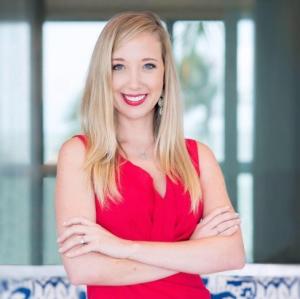 Kara Franker, Senior Vice President of Marketing & Communications, Greater Fort Lauderdale Convention Visitors Bureau
FORT LAUDERDALE, Fla. (June 14, 2019) – The Greater Fort Lauderdale Convention & Visitors Bureau (GFLCVB) has announced the appointment of Kara Franker as Senior Vice President of Marketing & Communications, effective immediately. Ms. Franker will lead the strategic planning and execution for all destination marketing and communications initiatives including branding, global destination promotion, integrated advertising campaigns, social media, public relations and website development.
Ms. Franker brings more than 12 years of leadership and creative communications experience to her new role. Prior to joining the GFLCVB, she founded and led her own communications and marketing firm, which provided marketing strategy, team management, client promotion and content creation services to Florida-based destination marketing organizations, as well as hotels, restaurants and attractions throughout Florida and the Caribbean.
A seasoned journalist, Ms. Franker has been featured as a Florida expert for Coastal Living, Condé Nast Traveler, Travel + Leisure, Travel Channel, Travelocity, Orbitz, HGTV, Huffington Post and more. Additionally, she simultaneously serves as Editor-in-Chief of two luxury lifestyle print magazines for the award-winning Modern Luxury network of publications, including Modern Luxury Weddings South Florida and The Caribbean and Modern Luxury Interiors South Florida.
"Kara has a wealth of valuable experience, as well as a highly-respected reputation throughout the travel and the hospitality industry," says Stacy Ritter, President and CEO of the Greater Fort Lauderdale Convention & Visitors Bureau. "These qualities, including her strong leadership background and communications expertise, will no doubt lead to great success in her new capacity and how we inspire and connect with travelers across the globe."
A licensed attorney in the state of Florida, Ms. Franker earned a Juris Doctor from the University of Denver, Sturm College of Law. She obtained her Bachelor of Science in journalism and strategic communications from the University of Kansas, William Allen White School of Journalism and Mass Communications. She enjoys serving the community and supporting various non-profit organizations, as well as spending time on the beach with her family.
###
About Greater Fort Lauderdale 
From the seagrass to the sawgrass, Greater Fort Lauderdale, located in Broward County, boasts more than 34,000 lodging accommodations at a variety of hotels, luxury spa resorts, and Superior Small Lodgings reflecting a vibrant cosmopolitan vibe. Visitors enjoy 23 miles of Blue Wave certified beaches, discover 300+ miles of inland waterways that run from the Intracoastal Waterway to the Everglades, dine at thousands of restaurants and eateries, get immersed in a thriving arts and culture scene and indulge in top shopping. 
For more information, contact the Greater Fort Lauderdale Convention & Visitors Bureau at +1 (800) 22-SUNNY or visit www.sunny.org. Get social and engage with Greater Fort Lauderdale on social media channels including Facebook, Twitter and Instagram: @visitlauderdale. 
Media Contact: 
Ivonne MacMillan
Greater Fort Lauderdale CVB 
Tel: 954-767-2408
E-mail: imacmillan@broward.org