Greater Fort Lauderdale/Broward County Convention Center Reopens
$1.1 billion expansion project continues through 2025 with financing approved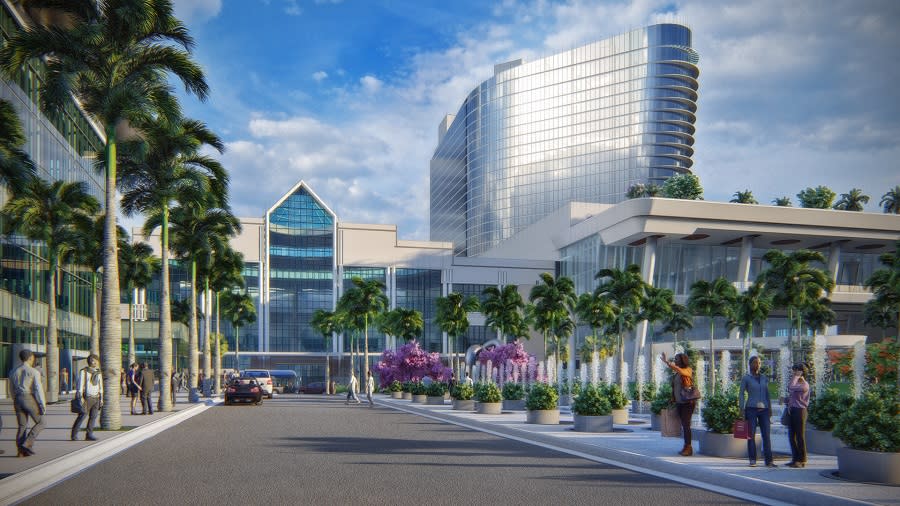 GREATER FORT LAUDERDALE, Fla. (December 17, 2021) – The newly expanded Greater Fort Lauderdale/Broward County Convention Center has reopened with 800,000 sq. ft. of space, including 350,000 sq. ft. of contiguous exhibit space. Work is in progress on the facility's continued expansion, taking the project to a total of 1.2 million sq. ft. by late 2025.
Broward County, Florida leaders held a bond-signing ceremony December 17, securing funding to finalize the highly anticipated new additions including an eastside building with waterfront ballrooms, meetings rooms and kitchen facilities, and a five-acre outdoor waterfront plaza with three restaurants and an amphitheater in a park-like setting.
An 800-room upscale headquarters hotel interconnected with the convention center is also planned for the project, for which details are still being finalized. The total cost for the convention center expansion and new hotel is estimated at $1.1 billion.
"The convention center expansion with a new 65,000 sq. ft. waterfront ballroom, along with our expanded exhibit hall and other new features, makes Greater Fort Lauderdale highly competitive in the national convention landscape," said Stacy Ritter, president & CEO of Visit Lauderdale. "The expansion is key to our continuing evolution as an upscale, cosmopolitan and diverse tourism and meetings destination."
The first event in the new exhibit space was the indoor portion of the 62nd annual Fort Lauderdale International Boat Show, and many more events and trade shows are now on the facility's schedule.
Visitors to the convention center portion of the boat show were connected to new product debuts including over 250 boats along with motors and watersports products from exhibitors including notable brands such as Grady-White Boats, Yellowfin, Robalo, Mercury Marine, Nautical Ventures and others. Exhibitors were excited about the completion of the expanded exhibit hall and are looking forward to the continued expansion of the center.
"The facility offered enhanced opportunities for us to display our full line of models and customers were very happy to have this vital display hub back at the show," said Ray Jahn, President of Fish Tale Boats, a leading Grady-White Boats dealer. "We're excited for the completion of the expansion in 2025 and think the benefits for exhibitors and consumers will be world class."
The convention center expansion is expected to create more than 1,000 jobs and boost the Greater Fort Lauderdale economy by more than $200 million annually. To learn more about the convention center and meetings in Greater Fort Lauderdale, visit VisitLauderdale.com/meetings.
Photos & Logos: https://www.dropbox.com/sh/gqgl1jg4r87mniv/AAB4I12I91UyH6C72mwVmIpYa?dl=0
About Greater Fort Lauderdale
Greater Fort Lauderdale boasts an average year-round temperature of 77˚F and has 3,000+ hours of annual sunshine and is known as the Venice of America and Yachting Capital of the World. Explore 4,000+ eateries, 300+ miles of navigable waterways, eight distinct beaches, a thriving arts and culture scene, craft breweries, rooftop bars, diving, fishing and other outdoor adventures, world-class shopping and boats, yachts and superyachts moored at the area's many marinas – all conveniently located in the center of South Florida. Made of up 31 municipalities, the destination boasts more than 37,000 lodging accommodations at a variety of hotels, luxury resorts and boutique properties, reflecting a cosmopolitan vibe. Upon arrival at FLL Airport (Fort Lauderdale-Hollywood International Airport), it is just five minutes to the beach, Port Everglades, the Greater Fort Lauderdale/Broward County Convention Center and downtown. Find trip planning inspiration at visitlauderdale.com and follow @VisitLauderdale on Facebook, Instagram, Twitter and YouTube.  
About Visit Lauderdale
Visit Lauderdale is the official destination marketing organization for Greater Fort Lauderdale and serves as the tourism department for Broward County, Florida. Visit Lauderdale promotes the area's 31 municipalities to a global audience of leisure and business travelers as the ideal place for Everyone Under the Sun in recognition of the area's diverse and welcoming vibe, and books conventions into the Greater Fort Lauderdale/Broward County Convention Center and area hotels and resorts. Find more information at visitlauderdale.com  and follow @VisitLauderdale on Facebook, Instagram, Twitter and YouTube.  
###
MEDIA CONTACTS:
JoNell Modys
Visit Lauderdale
954-614-6945
Ivonne MacMillan
Visit Lauderdale
954-767-2408
Sarah Caro
Aqua Marketing & Communications
863-599-0109