GREATER FORT LAUDERDALE'S UNDERGROUND CREATE DIVISION
LAUNCHES DESTINATION'S FIRST EVER ART MAP AND UNDERGROUND PASS SHOWCASING THE CREATIVE SCENE IN BROWARD COUNTY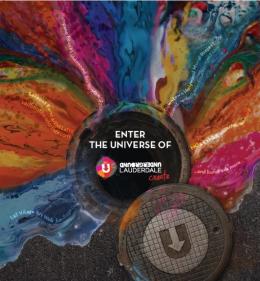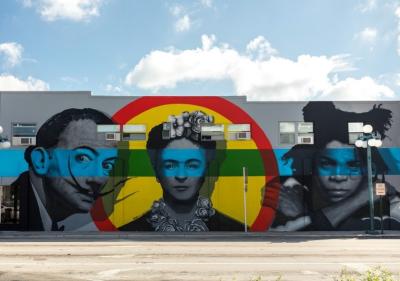 (Left) GFLCVB's Film, Music, Fashion & Create division officially launches Underground Create Map; (Right) Mural by Fabio Onrack for the Downtown Hollywood Mural Project located in Florida's Hollywood
GREATER FORT LAUDERDALE, Fla. – (July 9, 2018) – The Greater Fort Lauderdale Convention & Visitors Bureau's Film, Music, Fashion & Create division has officially launched the Bureau's first Underground Create Map. This curated guide of creative hotspots is designed to showcase Broward County's creative universe. From live Indy music events and festivals to art walks and trolley tours called Underground Stops (U-Stops), the Underground Create Map is a comprehensive catalogue of the area's arts offerings and an easy way for residents and visitors to plan their cultural outings, through the multisensory underground creative scene. 
In addition to the map, the Bureau has created an Underground Create Pass (UCP), which provides special offers and discounts at various venues throughout the destination to encourage visitation and promote the participating entities.  
"Greater Fort Lauderdale is known for its beautiful beaches and attractions; however, we have so much more flourishing in the destination. The Underground Create initiative brings forth the destination's unique identity, diversity and edgy 'sense of place,' appealing to tourists and locals with an artsy flair," said Noelle P. Stevenson, Vice President, Film, Music & Entertainment, for Greater Fort Lauderdale CVB's Film, Music, Fashion & Create division. "With the U-Create map and pass, we are showcasing and promoting this market segment as yet another key attraction and product, encompassing Broward's multitude of creative hotspots."
The Underground Create program encompasses a map showcasing the various "creative hotspots" in Broward, from Underground Stops (U-stops) via trolley tours (sunny.org/createstops), to public art (sunny.org/createpublicart), events and festivals (sunny.org/createfestivals), and art galleries and museums (sunny.org/creategalleriesmuseums). You will find more overall information on the main site: sunny.org/create.
The Greater Fort Lauderdale Convention & Visitors Bureau, the official tourism marketing agency for Broward County, will embark on a multi-tiered marketing and advertising campaign to heighten awareness of the Underground Create Map and encourage users to sign up to receive a copy.
Underground Create's mission is to promote existing creative industries in the destination and to stimulate new opportunities in film, fashion, music and entertainment. The division is responsible for providing resources and information on Greater Fort Lauderdale's production-friendly universe, including film incentives and licensing for film and television projects, partnerships for major music concerts such as the annual Rock the Ocean's Tortuga Music Festival and the promotion of arts events such as Artopia and Art Fort Lauderdale. 
The Underground Create Pass (UCP) is joined by the division's Underground Music Pass (UCM) that provides special offers to music vendors and audiences at clubs, restaurants and concert venues.
For further information on the Greater Fort Lauderdale's Underground Create, check out: sunny.org/create.  
About Greater Fort Lauderdale
From the seagrass to the sawgrass, Greater Fort Lauderdale, located in Broward County, boasts more than 34,000 lodging accommodations at a variety of hotels, luxury spa resorts, and Superior Small Lodgings reflecting a vibrant cosmopolitan vibe. Visitors enjoy 23 miles of Blue Wave certified beaches, discover 300+ miles of inland waterways that run from the Intracoastal Waterway to the Everglades, dine at thousands of restaurants and eateries, get immersed in a thriving arts and culture scene and indulge in top shopping.
For more information, contact the Greater Fort Lauderdale Convention & Visitors Bureau at (800) 22-SUNNY or visit www.sunny.org. Get social and engage with Greater Fort Lauderdale on social media channels including Facebook, Twitter and Instagram: @visitlauderdale.
Media Contact:
Jessica Savage
Greater Fort Lauderdale CVB
Tel: 954-767-2444
E-mail: jessicasavage@broward.org
 
Lauren Wire
Finn Partners
Tel: 646-307-6324
E-mail: Lauren.Wire@finnpartners.com