Mobile-First, Experience-Driven – Greater Fort Lauderdale Vacation Planner Gets a Reboot
Celebrate National Plan for Vacation Day on January 29 by Building a Personalized Getaway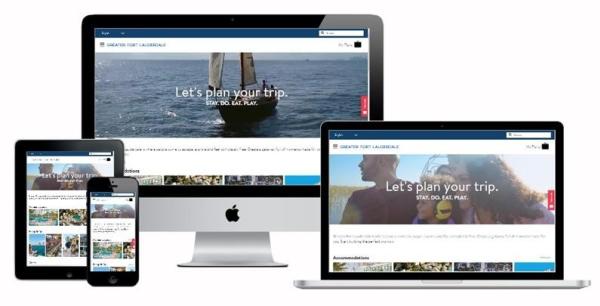 Click-to-Tweet: The new @VisitLauderdale #Vacation Planner's latest version has just been released and is ready for #NationalPlanForVacationDay on January 29 – check it out -> vacationplanner.sunny.org/
FORT LAUDERDALE, Fla. (January 3, 2019) — Just in time for National Plan for Vacation Day 2019, on January 29, the freshly revamped and enhanced Greater Fort Lauderdale Vacation Planner will make it easier than ever for Americans to enjoy the 705 million vacation days left unused last year [1].
"Based on user behavior data and research findings, we've rebooted the digital vacation planner to be incredibly valuable to visitors, both before and during their trip," says Stacy Ritter, president and CEO, Greater Fort Lauderdale Convention & Visitors Bureau. "To help plan a vacation, it allows you to explore the destination, create customizable itineraries, make travel reservations and organize trip details all in one place. Then, while here, the new mobile enhancement highlights nearby experiences and attractions in real-time, based on your current location."  
Available in six different languages – Chinese; English; French; German; Portuguese; Spanish – the Greater Fort Lauderdale Vacation Planner's latest evolution includes the following:
Click-to-share feature
Curated collections of experiences and neighborhood (e.g. sample itineraries and must-dos for foodies, art-lovers or adventure-seekers)
Location-based, nearby things to do
Map/Route building
Meeting/Group planner integration and tools
Mobile-first design architecture
Visit Lauderdale TV integration, the destination's 24/7 network featuring live and on-demand video programming
"Taking time off is essential to strengthening personal relationships, inspiring creative thinking, improving professional performance and promoting better health," says Ritter. "There's no better place than Greater Fort Lauderdale to escape, explore and restore."
To start planning your personalized vacation, visit vacationplanner.sunny.org.
[1] U.S. Travel Association (2018)
###
About Greater Fort Lauderdale
From the seagrass to the sawgrass, Greater Fort Lauderdale, located in Broward County, boasts more than 34,000 lodging accommodations at a variety of hotels, luxury spa resorts, and Superior Small Lodgings reflecting a vibrant cosmopolitan vibe. Visitors enjoy 23 miles of Blue Wave certified beaches, discover 300+ miles of inland waterways that run from the Intracoastal Waterway to the Everglades, dine at thousands of restaurants and eateries, get immersed in a thriving arts and culture scene and indulge in top shopping.
For more information, contact the Greater Fort Lauderdale Convention & Visitors Bureau at (800) 22-SUNNY or visit sunny.org. Get social and engage with Greater Fort Lauderdale on social media channels including Facebook, Twitter and Instagram: @VisitLauderdale.
Media Contact: 
Ivonne MacMillan
Greater Fort Lauderdale CVB 
Tel: 954-767-2408
E-mail: imacmillan@broward.org