VISIT LAUDERDALE LAUNCHES "EAT LOCAL" TO PROMOTE GREATER FORT LAUDERDALE FLAVORS TO-GO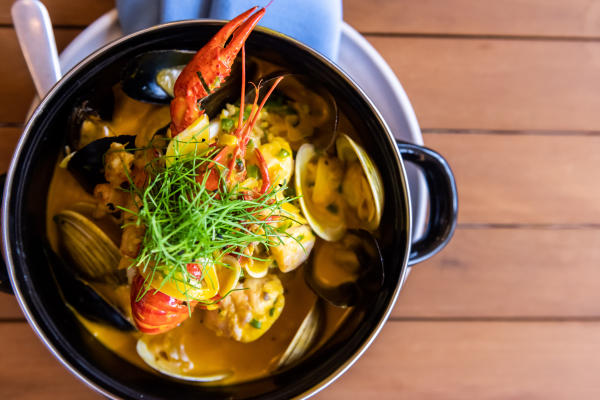 Restaurants Encouraged to Sign Up for Free Promotion
GREATER FORT LAUDERDALE, Fla. (April 16, 2020) – Visit Lauderdale's "Eat Local" campaign offers a comprehensive list of local restaurants offering takeout, drive-thru, curbside and delivery services that residents and essential lodgers can use while practicing social distancing. See details about menus, hours and more on the @VisitLauderdale social media channels and on the dining page at sunny.org.
"Our local restaurants reflect who we are as a destination – diverse, eclectic, welcoming and representing many cultures," says Stacy Ritter, President & CEO of Visit Lauderdale. "Our Greater Together message that reflects our diversity has never been more important than it is right now. We jumped in to provide promotional support so people in search of great meals can find the restaurants providing them."
Since the "Eat Local" effort started March 18, more than 125 restaurants have been spotlighted and individually tagged on the @VisitLauderdale Instagram and Facebook social media channels, resulting in more than 110,000 views with an audience of 40,000 Instagram followers and 255,000 Facebook followers. Check out the highlights on Instagram for the latest intel on hours, menus, specials on family dinners and cocktails, and more.
Some of the restaurants offering takeout, curbside pickup and/or delivery include Le Bistro, The Cook & The Cork, Casa D'Angelo, Cafe Maxx, Good Spirits, Coconuts, Wild Sea Oyster Bar & Grille, Jet Runway Cafe, Chimney House, Beach House Pompano, Greenbar & Kitchen, Henry's Sandwich Station, 15th Street Fisheries, Shuck & Dive, Yot Bar & Kitchen, Indian Harbor, Ethos Greek Bistro, and Pizza Craft.
Beer aficionados can also get their favorite, local brews to go from Greater Fort Lauderdale Ale Trail spots such as Tarpon River Brewing, Park & Ocean, 3 Sons Brewing Co., Gulf Stream Brewing Company and American Icon Brewery.
"Eat Local" continues to expand with promotion of where to find your favorite sweet treats "to-go." Yes, you can still indulge in the world-famous homemade ice cream from Jaxson's Ice Cream Parlour, maple bacon or Nutella mousse donuts from Bake Shack, s'mores or key lime cookies from Batch, The Cookie Company or croissant cinnamon buns and pop tarts from Sweet Rustic Bake Shop.
With groceries and household provisions in scant supply, some savvy restaurants and bars have turned into pop-up community markets, highlighted in an article on sunny.org, and also shared on the "Eat Local" social media effort. For example, South Florida's oldest steakhouse, Tropical Acres in Dania Beach, has been reinvented as a drive-thru butcher shop with custom cuts of meat and seafood, and beachy-chic Beach House Pompano is offering a full range of grocery goods, including a free roll of toilet paper with any $20 grocery purchase.
All the Visit Lauderdale "Eat Local" promotions are free for restaurants – sign up is available here.
See also:
In addition to "Eat Local," Visit Lauderdale is providing support for the local tourism industry with a robust roundup of initiatives including recognizing our local hometown heroes, connecting hotels with essential lodgers, and offering residents and those that wish they were here access to virtual vacation-like experiences at beaches, attractions and museums, along with links to virtual fitness classes, local community resources and more.
And tourism bureau staff has gone above and beyond to create the enjoyable and educational Visit Lauderdale Junior Ambassador online learning experience for kids in grades three through five. To learn more about all these programs, visit Travel & Community Resources for Greater Fort Lauderdale at sunny.org.
About Greater Fort Lauderdale
Greater Fort Lauderdale boasts an average year-round temperature of 77˚F and has 3,000+ hours of annual sunshine. Explore 4,000+ eateries, 300+ miles of navigable waterways, eight distinct beaches, a thriving arts and culture scene, craft breweries, rooftop bars, outdoor adventure, and world-class shopping – all conveniently located in the center of South Florida. Made of up 31 municipalities, the destination boasts more than 35,000 lodging accommodations at a variety of hotels, luxury spa resorts and Superior Small Lodgings reflecting a cosmopolitan vibe. Upon arrival at FLL Airport (Fort Lauderdale-Hollywood International Airport), it is just five minutes to the beach, Port Everglades, the Broward County Convention Center and downtown. For trip planning inspiration, visit sunny.org and follow @VisitLauderdale.
About Visit Lauderdale
Visit Lauderdale, a.k.a. the Greater Fort Lauderdale Convention & Visitors Bureau (GFLCVB) is the tourism marketing organization for Broward County, Florida. The GFLCVB markets Greater Fort Lauderdale's community of 31 municipalities to a global audience of leisure and business travelers and books conventions into the Greater Fort Lauderdale/Broward County Convention Center and area hotels and resorts. The GFLCVB produces marketing and brand campaigns to keep the destination top-of-mind with travelers and maintains relationships with and hosts site tours for travel journalists, social media influencers, meeting planners, sports event planners, tour operators and travel agents. For more information about the destination, visit sunny.org and follow @VisitLauderdale on Facebook, Instagram, Twitter and YouTube.  
Editorial Photos Available for Download
https://www.dropbox.com/sh/9lr0xvlr507c5yt/AAC_IzqV7R5fxdOEmKI5eKVda?dl=0
Credit: Visit Lauderdale
# # #
Media Contacts: 
JoNell Modys 
Visit Lauderdale
Tel: 954-767-2412
Email: jmodys@broward.org
Ivonne MacMillan
Visit Lauderdale
Tel: 954-767-2408
E-mail:  imacmillan@broward.org