VISIT LAUDERDALE SPOTLIGHTS WHAT'S NEW & ON THE HORIZON
New hotels, restaurants and places to play welcome visitors throughout Greater Fort Lauderdale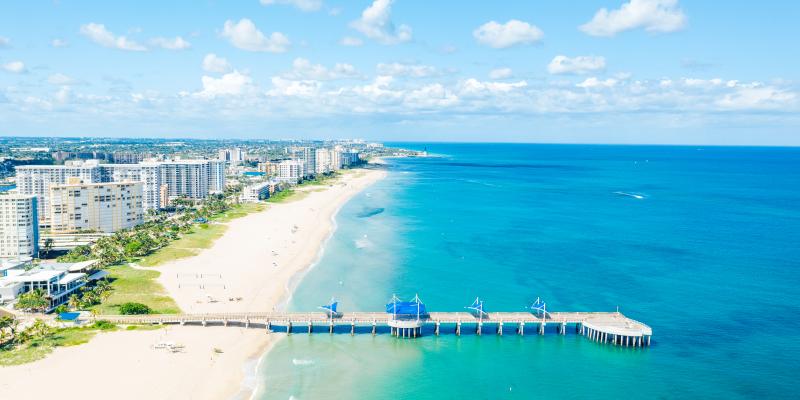 GREATER FORT LAUDERDALE, Fla. (October 30, 2020) – Planning a South Florida getaway? Visit Lauderdale has lots that's new and even more on the horizon. In addition to traditional favorites, there's a new downtown Fort Lauderdale hotel, a long-awaited food hall and marketplace, a new Atlantic fishing pier in Pompano Beach and an eclectic mix of new dining experiences.
Hotels, restaurants, attractions, shops and many other businesses throughout the region have committed to the Visit Lauderdale Safe + Clean Pledge ensuring practices and protocols are followed to prevent the spread of COVID-19. Masks are required in all public places. For visitor guidelines and local policies visit sunny.org/healthadvisory.
What's New Now
The Hyatt Centric Las Olas is the area's newest hotel, located on the first 15 floors of the 100 Las Olas building in the heart of downtown Fort Lauderdale. The chic hotel offers 238 guestrooms boasting city skyline views. The lobby-level Harborwood Urban Kitchen & Bar serves classic, modern-American cuisine with a kitchen helmed by award-winning Executive Chef Greg McGowan. Elev8 rooftop features a pool deck and bar with panoramic downtown views. The hotel opened in April.
The newly reconstructed Pompano Beach Fishing Pier, now known as the Fisher Family Pier, opened in May 2020. The pier is open for sightseeing and fishing, and includes shade structures, benches, marine-related artwork, Wi-Fi and an underwater camera for watching fish. The end of the pier is also built in the shape of a Pompano fish.
Chick'nCone, the fast-casual to go restaurant featuring crispy air-fried chicken in a waffle cone, opened in the MASS District within Fort Lauderdale's Flagler Village in June. The grab-and-go concept features super crispy boneless tenders tossed with homemade sauces and scooped into freshly made vanilla waffle cones.
Cleveland's Old Fashion Ice Cream opened in Miramar in August. The ice cream parlour features 52 homemade ice-cream flavors including six vegan options, birch beer and soda floats.
Primadonna Ristorante e Bar, a new Italian experience in Fort Lauderdale, opened in August. The restaurant serves traditional and inventive twists of Italian classics paired with a curated all Italian wine list. One of Fort Lauderdale's favorite restaurants for over 25 years, Canyon (same restaurateurs as Primadonna) relocated and reopened next door in August.
Unit B Eatery + Spirits, a speak easy-themed bar and restaurant, opened in Pembroke Pines in September. The tapas-style restaurant serves 30 cocktails.
Papa's Raw Bar in Lighthouse Point recently unveiled its new lounge called The Barrel Room, featuring elevated, smoked Papa's Old-Fashioned cocktails, an oyster and seafood bar and a charcuterie menu.
Sistrunk Marketplace & Brewery, a 24,000-square-foot indoor food hall, mixed-use event space and retail concept, opened in September in the heart of Fort Lauderdale's historic Sistrunk. The marketplace features a myriad of food vendors including: Bronte Café, The Chop Shoppe, The Empanada Bodega, Fuoco Roman Pizza, Heavenly Raw, Hot Lime Craft Tacos and Ceviche, Kasai + Koori Asian Deserts, Needa' Pita, Nellie's Country Kitchen, OSOM Crepes, Poke OG, and Senbazuru Ramen. In addition, there are several private and shared event spaces; a DJ and production music academy – Wired Sound Academy, and a co-op style retail boutique – SistrunKollective. Shady Distillery, a full production craft distillery, opened in October. Khoffner Brewery will open at Sistrunk Brewery this fall.
Papa's Raw Bar in Lighthouse Point recently unveiled its new lounge called The Barrel Room, featuring elevated, smoked Papa's Old-Fashioned cocktails, an oyster and seafood bar and a charcuterie menu.
Takato, a Japanese-Korean fusion restaurant, opened in October at the Conrad Fort Lauderdale Beach. Takato, meaning 'in a state of extreme happiness' in Japanese, features an upscale menu with sharable small plates and entrees with an emphasis on sushi. The kitchen is headed up by Executive Chef Taek Lee (Taka), former executive sushi chef at Zuma in Miami and former executive chef at Monkitail in the Diplomat Beach Resort Hollywood.
GIOIAEat (pronounced "joy-ah-eat") opened on Young Circle in downtown Hollywood in October. Master Pizza Chef and Acrobatic Pizza World Champion Massimiliano Stammerra can be seen throwing pizza dough as he prepares 17 specialty pizzas.
Eatapas opened in Fort Lauderdale in October. The Spanish restaurant serves tapas, paella and tableside sangria. Diners can enjoy live Spanish guitar music nightly except Fridays, when the dining room is filled with flamenco dancing.
International retailer Primark opened at Sawgrass Mills in October. The 36,800-square-foot store features the latest trends in women's, men's and children's fashion including footwear and accessories, as well as homeware. It also features Primark's ranges of products made using sustainable, recycled and organic materials. 
Fairfield Inn & Suites by Marriott Boca Raton-Deerfield Beach is the newest hotel in Deerfield Beach. The 101-room hotel opened in November 2020.
Coming Soon
Yeasty Brews Artisanal Beers opens in Lauderhill this fall. The craft brewery and restaurant will offer small batch beers brewed with all-natural fruits, spices and herbs.
The historic Escape Hotel is being transformed into the Gale Boutique Hotel & Residences Fort Lauderdale, with 96 rooms and 129 condo residences, and will feature luxury amenities, sleek furnishings, rooftop sky deck, fitness center, spa and pool. Opening in November 2020.
Courtyard Fort Lauderdale Downtown is scheduled to open in December 2020. The 137-room hotel will feature a state-of-the-art lobby, flexible spaces, two meetings rooms and an indoor pool.
Tru by Hilton and Home2 Suites by Hilton Fort Lauderdale-Downtown Flagler Village is expected to open in December 2020. The $50+ million development will merge two of Hilton's popular brands in the Flagler Village neighborhood in downtown Fort Lauderdale. Upon completion, the property will have 112 Tru guestrooms and 106 Home2 Suites guestrooms. When it opens, the new-build hotel will be 19 stories and feature two distinctive lobbies – each of which will have its own breakfast bar, lounge, and other brand-specific amenities. The property will also offer an outdoor pool deck complimented by an outdoor bar, a fitness center, and 4,843 square feet of private event and conference space. 
Salt7 restaurant is slated to open at the Icon Las Olas in Winter 2020. The restaurant also includes a 2,200-square-foot mezzanine with a VIP area and DJ booth.
On the Horizon
Hotel Maren Fort Lauderdale Beach, a Curio Collection by Hilton, a new 229,000 square feet, 12-story hotel with 136 luxurious resort rooms, oversize balconies and breathtaking ocean views, is scheduled to open in January 2021. Amenities include a VIP lounge, Ocean Club, 5th floor Pool and Pool Bar, meeting rooms, and a state-of-the-art fitness center.
A $1 billion expansion of the Greater Fort Lauderdale/Broward County Convention Center is underway. Phase one opens October 2021 with 350,000 sq. ft. of contiguous exhibit space. Full completion is projected for 2024. This sensational venue will be even bigger and better with a total of 1.2 million sq. ft. of meeting space, including 65,000 sq. ft. waterfront ballroom, a new expansive waterfront plaza, new dining concepts, enhanced water taxi access and an 800-room headquarters hotel.
AC Hotels by Marriott Fort Lauderdale Beach opens summer 2021 just steps away from Sebastian Street Beach in Fort Lauderdale. The 171-room hotel will boast ocean views, an open kitchen for European-style breakfast and specialty culinary events, a library, an expansive resort-style pool with cabanas and dining services, and 1,000 square feet of meeting space.
Eddie V's opes on Las Olas Boulevard in early 2021. The fine-dining restaurant will serve prime seafood and steak, handcrafted cocktails, and live jazz every night in the V Lounge.
The Abbey, part restaurant and part nightlife/entertainment venue, opens in early 2021 inside a transformed church in downtown Fort Lauderdale.
The highly anticipated Cuba Libra Restaurant & Rum Bar is expected to open in early 2021 on Las Olas Blvd. in downtown Fort Lauderdale. Chef-partner Guillermo Pernot promises a modern take on Havana-inspired dishes. The restaurant will feature dramatic interior and exterior theming, as well as a wood-burning Latin Grill & Chef's Counter.
NSU Art Museum Fort Lauderdale presents a major retrospective exhibition of fashion designer Anna Sui from February 27 - September 19, 2021. With over 100 looks, The World of Anna Sui explores the glamorous and eclectic world of one of New York's most beloved and accomplished designers and invites viewers to step inside Sui's imagination to discover her creative process and the diverse influences that contribute to her signature aesthetic sensibility. The World of Anna Sui is organized by the Fashion and Textile Museum, London and is curated by Dennis Nothdruft.  
In 2021, Florida House restaurant and bar will open behind Rhythm & Vine in Fort Lauderdale. The building will be reminiscent of an Ernest Hemingway-like house with outdoor seating.
AC Hotels by Marriott Fort Lauderdale Sawgrass Mills/Sunrise, a new 174-room hotel in Sunrise adjacent to the Sawgrass Mills outlet shopping center, is expected to open in spring 2021. The eight-story hotel will have 174 rooms, an arts-focused library, lounge with tapas-style menu and craft beers and cocktails, health and fitness center, rooftop restaurant, and offer 2,500 square feet of meeting space.
Tru by Hilton and Hilton Home2Suites is scheduled to open a 150-room hotel with a rooftop bar in Pompano Beach Fishing Village in June 2021.
The new 104-room Cambria Hotel & Suites Fort Lauderdale Beach will offer ocean views, a meeting room, coffee bar, pool deck and fitness room. Opening in June 2021.
The International Swimming Hall of Fame is undergoing a $46 million renovation. Construction includes a 10-lane, 50-meter competition pool with two movable bulkheads, and new diving pool with 27-meter dive tower with nine platform levels, spa, and a teaching pool. The pools are scheduled to open August 2021. The center's operations building that houses offices, lifeguard, first aid, lockers, timing, and meeting rooms is scheduled to open the first quarter of 2022. Unique to itself, the high dive tower will be accessible via a standard stairway. Visitors will be able to experience guided "Top of the Tower" tours to see what it is like to be diver from heights above 3-meters with scenic views of the Intracoastal Waterway and Fort Lauderdale beach. Program offerings will include recreational lap swim, water fitness, SCUBA, swimming and diving lessons, and organized team sports in swimming, diving, and water polo. Community training courses in water safety, First Aid/CPR, lifeguarding, and maritime rescue will be offered at regular intervals.
A new 23-story Four Seasons is opening in December 2021 with 130 guest rooms and 90 residences, two restaurants, a spa, fitness center, children's recreation room, "Beach Butlers" and ballroom and meeting facilities.
A South Florida icon for more than 50 years, Pier Sixty-Six Hotel & Marina is going through a total reimagination of the destination. Upon completion, the hotel will have 345 guest rooms & suites, multi-level pool experience with family and adult areas, lobby lounge, Pier Top lounge, spa, fitness center, kids club, marina promenade and residential offerings. The hotel is officially closed, but the marina remains open. Expected reopening is late 2022.
For additional information, visit sunny.org/WhatsNew.
About Greater Fort Lauderdale
Greater Fort Lauderdale boasts an average year-round temperature of 77˚F and has 3,000+ hours of annual sunshine. Explore 4,000+ eateries, 300+ miles of navigable waterways, eight distinct beaches, a Greater Fort Lauderdale tourism industry thriving arts and culture scene, craft breweries, rooftop bars, outdoor adventure, and world-class shopping – all conveniently located in the center of South Florida. Made of up 31 municipalities, the destination boasts more than 35,000 lodging accommodations at a variety of hotels, luxury spa resorts and Superior Small Lodgings reflecting a cosmopolitan vibe. Upon arrival at FLL Airport (Fort Lauderdale-Hollywood International Airport), it is just five minutes to the beach, Port Everglades, the Broward County Convention Center and downtown. For trip planning inspiration, visit sunny.org and follow @VisitLauderdale.
About Visit Lauderdale
Visit Lauderdale, a.k.a. the Greater Fort Lauderdale Convention & Visitors Bureau (GFLCVB) is the tourism marketing organization for Broward County, Florida, where more than 13 million annual visitors support 180,000 direct and indirect tourism jobs and spend over $8 billion. The GFLCVB markets Greater Fort Lauderdale's community of 31 municipalities to a global audience of leisure and business travelers and books conventions into the Greater Fort Lauderdale/Broward County Convention Center and area hotels and resorts. The GFLCVB produces marketing and brand campaigns to keep the destination top-of-mind with travelers and maintains relationships with and hosts site tours for travel journalists, social media influencers, meeting planners, sports event planners, tour operators and travel agents. For more information about the destination, visit sunny.org and follow @VisitLauderdale on Facebook, Instagram, Twitter and YouTube.  
# # #
Media Contacts: 
JoNell Modys 
Visit Lauderdale
Tel: 954-767-2412
Email: jmodys@broward.org
Ivonne MacMillan
Visit Lauderdale
Tel: 954-767-2408
Email: imacmillan@broward.org