VISIT LAUDERDALE SPOTLIGHTS WHAT'S NEW & ON THE HORIZON
New hotels, restaurants & attractions offer diverse experiences throughout  Greater Fort Lauderdale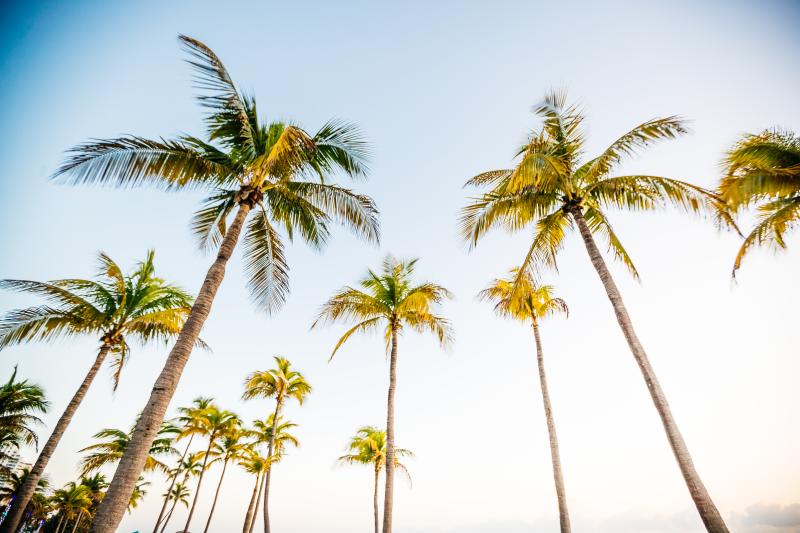 GREATER FORT LAUDERDALE, Fla. (December 28, 2020) - Greater Fort Lauderdale's ambitious growth continues despite the pandemic as the destination welcomes new hotels, interactive art & cultural attractions and an eclectic mix of new dining venues. Visit Lauderdale invites residents and visitors to experience the varied offerings throughout Greater Fort Lauderdale's 31 cities. 
"Greater Fort Lauderdale is experiencing this tremendous trajectory, which speaks volumes about the positive outlook for our destination," says Stacy Ritter, President & CEO of Visit Lauderdale. "We have evolved into a cosmopolitan and authentically diverse and welcoming place for all visitors, and we're thrilled for everyone to experience all of the offerings that make Greater Fort Lauderdale so spectacular."
As travelers are planning vacations or extended trips while remote working, Visit Lauderdale wants to assure all that the destination is open and ready to welcome them. Over 400 hotels, restaurants, attractions, shops and other businesses throughout the region have committed to the Visit Lauderdale Safe + Clean Pledge in accordance with CDC guidelines, ensuring practices and protocols are followed to prevent the spread of COVID-19. For visitor guidelines, local policies and the latest news about major events, visit sunny.org/healthadvisory.
"Everyone deserves a much-needed vacation and the opportunity to enjoy a change of scenery while having peace of mind," says Ritter. "The safety and wellbeing of our residents and visitors is unquestionably our top priority, and the entire destination is committed to this."
New Hotels in Greater Fort Lauderdale
Greater Fort Lauderdale welcomed six new hotels in 2020. Seventeen more new hotels are scheduled to open in 2021, with even more in the pipeline for the next several years.
The first hotel to open in 2020 was the WoodSpring Suites in Tamarac, the fourth of the extended stay brand's properties in the region.
In April, Hyatt Centric Las Olas opened on the first 15 floors of the 100 Las Olas building in the heart of downtown Fort Lauderdale. The chic hotel offers 238 guestrooms boasting city skyline views. The lobby-level Harborwood Urban Kitchen & Bar serves classic, modern-American cuisine with a kitchen helmed by award-winning Executive Chef Greg McGowan. The eighth floor Elev8 rooftop features a pool deck and bar with panoramic downtown views.
Tru by Hilton Fort Lauderdale Airport opened in June with 115 rooms. The hotel is located just minutes from Fort Lauderdale-Hollywood International Airport and Dania Beach.
The 19-story Tru by Hilton and Home2 Suites by Hilton Fort Lauderdale-Downtown Flagler Village opened in November. The dual-branded property features 112 Tru guestrooms and 106 Home2 Suites guestrooms, an outdoor pool deck complemented by an outdoor bar, a fitness center, and 4,843 square feet of private event and conference space. 
Fairfield Inn & Suites by Marriott Deerfield Beach Boca Raton opened in November with 101 rooms, located midway between the beautiful sands of Deerfield Beach and its International Fishing Pier and the expansive Quiet Waters Park.
New Hotels in 2021
Hotel Maren Fort Lauderdale Beach, a Curio Collection by Hilton opens its doors in January on A1A overlooking Fort Lauderdale beach. The stunning 229,000 square feet, 12-story hotel features 141 luxurious resort rooms, oversize balconies and breathtaking ocean views. Amenities include a VIP lounge, Ocean Club, 5th floor pool and pool bar, and a state-of-the-art fitness center. The ground floor centerpiece restaurant Riviera features coastal Italian cuisine with Mediterranean influences by celebrity chef Fabio Viviano, known for his turn as a "Top Chef" contestant.
Courtyard Fort Lauderdale Downtown brings 137 rooms in January to the trendy, arts-oriented Flagler Village section of downtown Fort Lauderdale. Features include a state-of-the-art lobby, two meetings rooms with a total of 2,300 square feet of flexible meeting space and an indoor pool.
Other planned January openings include a dual-branded Tru by Hilton (60 rooms) and Hilton Home2 Suites (90 rooms) in the new Pompano Beach Fishing Village featuring a rooftop bar overlooking the Fisher Family Pier; and the Gale Boutique Hotel & Residences (96 rooms), a transformation of the historic Escape Hotel 
Other 2021 hotel openings include:
February:
Cambria Hotel & Suites Fort Lauderdale, 104 rooms
AC Hotels by Marriott Fort Lauderdale Sawgrass Mills/Sunrise, 174 rooms
Fairfield Inn & Suites Fort Lauderdale Northwest, 110 rooms

April:
AC Hotels by Marriott Fort Lauderdale Beach, 171 rooms, all with water views of the Atlantic Ocean or Intracoastal Waterway
Marriott at Dania Pointe, 196 rooms
AC Hotels by Marriott at Dania Pointe, 154 rooms
Avid Dania Beach, 100 rooms
Holiday Inn Express & Suites Miramar, 100 rooms
Dolce Hotels & Resorts Hollywood, 100 rooms

September:
Comfort Suites Fort Lauderdale, 100 rooms

December:
Cambria Hotel & Suites Weston, 152 rooms
Four Seasons Fort Lauderdale Hotel & Residences, 148 hotel rooms and 83 residences

New in Arts & Culture

Greater Fort Lauderdale's burgeoning arts and culture scene continues to grow with the November opening of the Island SPACE Caribbean Museum​, the first Caribbean heritage museum in the U.S. The exhibition and event venue at Westfield Mall in Plantation features a collection of artifacts, iconic and cultural relics and historical data representing South Florida's Caribbean communities.
History Fort Lauderdale presents an exclusive 60th anniversary free photo exhibition of "Where The Boys Are" at The Galleria at Fort Lauderdale on display through January 3, 2021. The annual Fort Lauderdale Art & Design Week returns (January 16-24, 2021) with a hybrid of virtual and in-person experiences, including provocative discourses, studio tours, exhibits and more.
NSU Art Museum Fort Lauderdale will present the retrospective exhibition The World of Anna Sui (February 27, 2020 -Sept. 19, 2021), featuring more than 100 looks from the iconic fashion designer. Visitors will also get access to an Anna Sui-themed pop-up shop.
The celebrated Museum of Discovery & Science reopened in December with limited weekend hours and resumes daily operations starting on December 31.
The City of Fort Lauderdale and MASS District have implemented the Art Equals Health initiative beginning with a walkable, self-guided art pathway to enjoy some of the city's most creative and engaging outdoor art. The pathway continues to grow with sidewalk and mural art and a focus on getting people physically active outdoors and promoting positive mental health.
Another wellness opportunity is coming soon to downtown Fort Lauderdale. The NOW Massage brings its popular LA massage concept to the arts-centric Flagler Village neighborhood this spring when it opens its first South Florida location. The NOW Massage boutique reimagines the neighborhood spa with a clean, modern design and a focus on quality massages to facilitate relaxation and healing.
New Dining & Nightlife
With more than 4,000 eateries, Greater Fort Lauderdale's eclectic dining scene offers a variety of delectable offerings for every palate. From the county's first food hall to speakeasies and restaurants offering flamenco shows, the destination's culinary scene continues to flourish. 
Sistrunk Marketplace & Brewery, a 24,000-square-foot indoor food hall, mixed-use event space and retail concept, opened in Fort Lauderdale in September. Food vendors include Bronte Café, The Chop Shoppe, The Empanada Bodega, Fuoco Roman Pizza, Heavenly Raw, Hot Lime Craft Tacos and Ceviche, Kasai + Koori Asian Deserts, Needa' Pita, Nellie's Country Kitchen, OSOM Crepes, Poke OG, and Senbazuru Ramen. In addition, there are several private and shared event spaces; a DJ and production music academy – Wired Sound Academy, and a co-op style retail boutique – SistrunKollective. New additions include Khoffner Brewery and Shady Distillery, a full production craft distillery.
Additional notable recent openings include:
More dining and nightlife venues coming soon:
The highly anticipated Cuba Libra Restaurant & Rum Bar is expected to open in early 2021 on Las Olas Blvd. in downtown Fort Lauderdale. Chef-partner Guillermo Pernot promises a modern take on Havana-inspired dishes. The restaurant will feature dramatic interior and exterior theming, as well as a wood-burning Latin Grill & Chef's Counter.
Salt7 restaurant is slated to open at the Icon Las Olas in Fort Lauderdale in early 2021. The restaurant also includes a 2,200-square-foot mezzanine with a VIP area and DJ booth.
The Abbey, part restaurant and part nightlife/entertainment venue, opens in early 2021 inside a transformed church in downtown Fort Lauderdale. After the multi-million-dollar renovation, the venue will feature a 5,000-square-foot nightclub, a 220-seat restaurant with an outdoor bar, and a 3,000-square-foot landscaped terrace.
Visitors will also enjoy the newly reconstructed Pompano Beach Fishing Pier, now known as the Fisher Family Pier. The fish-shaped pier is open for sightseeing and fishing, and includes shade structures, benches, marine-related artwork, Wi-Fi and an underwater camera for watching fish.
COVID-19 Testing & New Air Service at Fort Lauderdale-Hollywood International Airport
Greater Fort Lauderdale-Hollywood International Airport (FLL) is conveniently located near downtown Fort Lauderdale. On-site COVID-19 testing services including rapid antigen tests (results in 30 minutes) and polymerase chain reaction (PCR) tests (results within 48 hours) are now available as a convenience for travelers flying to destinations that require presentation of a negative COVID-19 test for entry requirements or as part of quarantine restrictions. Online registration for tests can be made via Nomi Health.
Traffic continues to increase at both domestic and international terminals as airlines resume service to established routes and new routes are added.
United Airlines launched new seasonal nonstop flights to Boston, Cleveland, and New York's LaGuardia airport that are scheduled to continue through January 10, 2021. JetBlue began new direct service in November to Pittsburgh and Seattle and new twice-weekly seasonal flights to both Bozeman and Palm Springs in December, continuing through March 2021. Alaska Airlines added new direct service between FLL and San Diego and Portland. Spirit Airlines has launched a new domestic route to Indianapolis. American Airlines launches new twice-daily nonstop routes beginning April 2021 to Los Angeles (LAX), New York (JFK) and Boston (BOS).
Many previously established international routes have restarted. Service to all Colombian destinations has resumed and to most of Central America. Carriers that have resumed or will restart service before the end of 2020 including Bahamasair to Freeport and Nassau, Spirit to Lima, JetBlue to Havana, Copa to Panama, Avianca to Bogota, Spirit to Haiti and WestJet to Toronto. Air Transat resumes Canadian routes in February. Spirit Airlines launched new service in November from FLL to Bucaramanga and Barranquilla, Colombia.
About Greater Fort Lauderdale
Greater Fort Lauderdale boasts an average year-round temperature of 77˚F and has 3,000+ hours of annual sunshine. Explore 4,000+ eateries, 300+ miles of navigable waterways, eight distinct beaches, a Greater Fort Lauderdale tourism industry thriving arts and culture scene, craft breweries, rooftop bars, outdoor adventure, and world-class shopping – all conveniently located in the center of South Florida. Made of up 31 municipalities, the destination boasts more than 35,000 lodging accommodations at a variety of hotels, luxury spa resorts and boutique properties reflecting a cosmopolitan vibe. Upon arrival at FLL Airport (Fort Lauderdale-Hollywood International Airport), it is just five minutes to the beach, Port Everglades, the Greater Fort Lauderdale/Broward County Convention Center and downtown. For trip planning inspiration, visit sunny.org and follow @VisitLauderdale.
About Visit Lauderdale
Visit Lauderdale, a.k.a. the Greater Fort Lauderdale Convention & Visitors Bureau (GFLCVB) is the tourism marketing organization for Broward County, Florida, where more than 13 million annual visitors support 180,000 direct and indirect tourism jobs and spend over $8 billion. The GFLCVB markets Greater Fort Lauderdale's community of 31 municipalities to a global audience of leisure and business travelers and books conventions into the Greater Fort Lauderdale/Broward County Convention Center and area hotels and resorts. The GFLCVB produces marketing and brand campaigns to keep the destination top-of-mind with travelers and maintains relationships with and hosts site tours for travel journalists, social media influencers, meeting planners, sports event planners, tour operators and travel agents. For more information about the destination, visit sunny.org and follow @VisitLauderdale on Facebook, Instagram, Twitter and YouTube.  
# # #
Media Contacts: 
JoNell Modys 
Visit Lauderdale
Tel: 954-767-2412
Email: jmodys@broward.org
Ivonne MacMillan
Visit Lauderdale
Tel: 954-767-2408
Email: imacmillan@broward.org