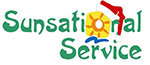 SUNSATIONAL SERVICE COURTESY AWARDS, DEC 10
We hope to see you Thursday, December 10 at the Broward County Convention Center for the annual holiday-themed 2015 SUNsational Service Courtesy Awards! We will recognize Broward's finest professional employees who go above and beyond at a special holiday luncheon with special guest, Wil Shriner. Click here to RSVP by Dec 4. Contact Rita Wells rwells@broward.org with any questions.

OCTOBER NUMBERS
Growth in hotel occupancy continues (for the past 71 months) with the highest October average hotel daily rate since 2007 and hotel occupancy in history! 
GREATER FORT LAUDERDALE AVERAGE HOTEL OCCUPANCY
October 2015
October 2014
% Change
73.3%
73.2%
+0.1%
GREATER FORT LAUDERDALE AVERAGE HOTEL DAILY RATE
October 2015
October 2014
% Change
$119.27
$114.75
+3.9%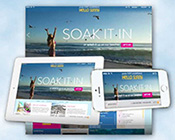 IMPORTANT SUNNY.ORG PARTNER ACCESS & BOOKING ENGINE WORKSHOPS
In conjunction with the Courtesy Awards luncheon on Dec 10, a training workshop will take place before or after covering two important platforms: Sunny.org booking engine, and the CVB Partner Access tool for editing your sunny.org listing and responding to leads. For your convenience, there will be two identical workshops, giving you an option of Pre-Luncheon (9:30am-11:30am) or Post-Luncheon (2pm-4pm). If you haven't already registered please email Stacie Faulds, sfaulds@broward.org with your preference of workshop times (9:30-11:30am or 2-4pm) on Dec 10 at the Broward County Convention Center, Room 222.

ABOUT THE WORKSHOPS: Sunny.org booking engine - As you may know, the GFLCVB partners with ARES (Advanced Reservation Systems, Inc.) to provide one-stop shopping for visitors and a distribution channel for our industry partners. When a guest makes a reservation on sunny.org, they are using ARES technology and they handle the fulfillment of that purchase. Additionally, hotel and attraction bookings are possible on Facebook.com/visitlauderdale with more than 252,000 fans. ARES representatives will conduct a live demonstration of the system's functionality, and will answer questions and provide specific instructions for each property or attraction who wants to participate and be represented in the system. Redesigned Sunny.org Partner Access portal - This platform allows you to login and edit your Sunny.org listing, add a special offer, add/replace photos and respond to leads. You may be familiar with this portal and already have a login with sunny.org/partneraccess. This is your chance to learn how to navigate through the new site firsthand before it is officially unveiled on Dec 11.
HOLIDAY SPECIALS
To help visitors and locals who are looking for holiday specials, we invite you to submit your holiday deals or events, including New Year's, to be featured on sunny.org/holidays and promoted on social media. Simply visit www.sunny.org/submit to input the details of your event and be sure to select the Holiday Specials category. To add a deal or special offer to the holiday page, login under your partner access sunny.org/partnerlogin. When creating coupons for your holiday deals, be sure to select the Holiday Deals category. If you have any questions about submitting your special offers, feel free to contact Justin at jflippen@broward.org.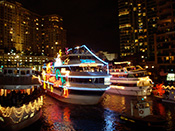 WINTERFEST BOAT PARADE'S 44th ANNIVERSARY – Don't forget to vote for the Best Holiday Festival
This year's Seminole Hard Rock Winterfest Boat Parade with Grand Marshal, Nick Cannon, sets sail on Sat, Dec 12 from the New River in downtown Fort Lauderdale. The parade travels east to the Intracoastal Waterway in Fort Lauderdale and north to Lake Santa Barbara in Pompano Beach. The best way to see the parade is viewing from the Grandstand Viewing Area (just north of Sunrise Boulevard) starting at 7pm. Don't forget to VOTE for the Winterfest Boat Parade, a nominee for the USA TODAY 10 Best Readers' Choice for Best Holiday Festival.
                                                                                            
TOURISM SALES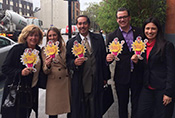 In November, Fernando Harb and Erick Garnica, along with Kim Butler, attended World Travel Market in London, the leading global event for the travel industry. Travel Weekly's Cruise World Show took place at the Broward County Convention Center in November with pre and post fam trips coordinated by Anna Levin in Strategic Client Services and partners including Brew Bus Tour, LauderALE, The Field Irish Pub & Eatery, Water Taxi, and Pirate Republic Bar, Seafood & Grill. Caitlan Etchevers hosted an AZUL Airlines fam trip with 14 agents for two days visiting hotels and attractions. Caitlan also hosted a quarterly webinar with Cruise One and welcomed a new direct flight from San Antonio, TX with Allegiant Airlines. Caitlan attended the National Association of Career Travel Agents Annual Conference in Kona, Hawaii with more than 350 agents in attendance at the tradeshow, networking sessions, roundtable sessions. The CVB hosted a dinner to promote next year's conference at the Westin Fort Lauderdale – Cypress Creek. Justin Flippen represented the CVB and assisted with the Broward100 InsideOut installation in Wilton Manors entitled, "The Real Building Blocks of the Community," photographed by Sam Notarbartolo.  Inside Out is one of the cornerstones of Broward100 and is a global art project that gives communities all over the world a platform to express themselves through black and white photographs. Inside Out installations have taken place throughout Broward County this year including locations in Miramar, Fort Lauderdale, Pembroke Pines, Hollywood, Coral Springs, and Wilton Manors.  Visit www.broward100.org to learn more.

SNAPSHOT FROM THE UK OFFICE
The UK team coordinated more than 30 trade, media and LGBT meetings for the CVB staff during World Travel Market and hosted a successful lunch event at the Soho Hotel in Central London for 50 key trade and media. The UK PR team is also promoting the inaugural Taste Fort Lauderdale festival set to take place in February 2016 targeting media.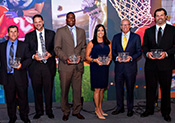 SPORTS HALL OF FAME BANQUET AND INDUCTION DINNER
Congratulations to the Class of 2015 inducted into the Broward County Sports Hall of Fame last month. Inductees include: Eddie Jones/Basketball; Marty Hendrick/Swimming; Steve Hutchinson/Football; Charlie Partridge/Football; Ryan Shealy/Baseball and Lisa Zielinski/Volleyball. Click here for bios.  
SPORTS DEVELOPMENT                         
Sports Development welcomes more than 35,000 athletes, coaches, and families to Greater Fort Lauderdale in December, attending events such as: the College Football Playoff Semifinal at the Capital One Orange Bowl and Sun Life Stadium, the USTA Orange Bowl International Tennis Championship in Plantation, the Orange Classic Girls' Soccer Tournament in Davie/Plantation, the SPARTAN Race to Vista View Park in Davie, and the Kreul Classic Girls' Basketball Tournament in Coral Springs.

LGBTQ MARKETING

Richard Gray, along with Virginia Sheridan from Finn Partners, attended the NGLCC gala dinner at the National Museum in DC. The CVB hosted a table with the GFL Gay & Lesbian Chamber of Commerce. The Westin Fort Lauderdale Beach will be the host hotel for the Community Marketing & Insights Conference on LGBT Tourism & Hospitality, December 8-11, when Richard will announce the results of the first ever travel study on the gay family market by a CVB. Passport Magazine will visit GFL for its transgender fashion shoot, photographed on the Silver Wind on the Intracoastal waterway, for its Feb 2016 swimwear issue. Click here for more info and registration. Congratulations to Richard Gray and Justin Flippen, who were listed in Florida's AGENDA Top 100 LGBT Movers and Shakers for their roles in the LGBT community.
DECEMBER GROUP SALES & SERVICES UPDATE
Groups meeting in December will generate more than $21 million to Broward County. Groups include:  
Dec 1-6: American Int'l Recruitment Council Annual Convention (250 attendees)
Dec 1-7: TRI-Ed Distribution National Sales Meeting (285 attendees)
Dec 2-13: ACNP Annual Conference 2015 (1200 attendees)
Dec 6-10: CSPA 102nd Annual Meeting (600 attendees)
Dec 29-Jan 3: Funk Fest 2015 (450 attendees)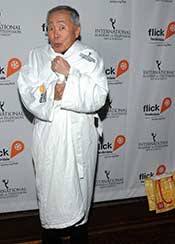 OFFICE OF FILM, MUSIC, ENTERTAINMENT & CREATIVE INDUSTRIES (OFME)
The Fort Lauderdale International Film Festival celebrated 30 years of film last month, and honored Nicki Grossman with the Visionary Award at the gala, alongside filmmaker and actor Ed Harris, and Victor Nunez, who were also honored at the gala. OFME partnered with the International Emmy's Award in NYC with nominees including Michael Douglas and Mr. Sulu from Star Trek (seen here honoring our OFME's "Flick" robe as he wore it around the media room), and to the main lead known as "Cora" from Downton Abbey to name a few. Noelle Stevenson will be showcasing the destination and meeting with key filmmakers at the Gotham Awards in NYC, celebrating 25 years of independent filmmaking. Nominees include Cate Blanchett, Lily Tomlin, Michael Keaton, Mark Ruffalo, Liev Shraber. Look for the Tortuga Music Festival "boat" at this year's Winterfest boat parade, promoting and celebrating the upcoming three-day Tortuga music festival in April.

Film Permits were issued for the following productions in November 2015: TV Series: Friends Trips; HBO's Ballers; The Detour TV Commercials: Hair Club; Toyota Camry Still Photography: Bed Bath and Beyond; Belk; Family Photo Session; GEOX; Harpers Bazaar Germany; Holiday Mini Sessions; Next Directory; Original Penguin; River Island Telenovelas: La Trailera; Quien es Quien Music Video: Tony Valor – To The Top (feat. Li Na) Feature Film: Tiny Dancers Web:  Broward County Airport/Pyramid Analytics Case Study; Cell Digital Content; SENSO Other: Evil Intentions. 

NEW IN TOWN
Las Olas Paddle Boards has opened a retail and rental center near the New River in downtown Fort Lauderdale. Tours are also available. Cibo Wine Bar opened its first Broward County eatery in Fort Lauderdale serving authentic southern Italian dishes from an open kitchen and features a "wine angel" who retrieves your bottled wine. The City of Miramar is gearing up for the groundbreaking of an amphitheater project at the Miramar Regional Park. Guests are invited to attend the groundbreaking event, Dec 9 at 10am. Click here to RSVP. In November, All Aboard Florida introduced Brightline, the express train travel service that will connect the major cities of south and central Florida along a 235-mile route.  The brand launch presents a bright and optimistic view of the future for the millions of residents and tourists who crisscross the state's highways and skyways annually by offering an important new travel alternative in Florida. Brightline will launch service in 2017.  For more information, visit www.gobrightline.com.

HSMAI SOUTH FLORIDA HONORS HOSPITALITY'S BEST
Congratulations to Heiko Dobrikow, GM of The Riverside, who will be named Hospitality Legend of the Year during HSMAI South Florida's annual Hospitality Awards Gala tonight at the Margaritaville Hollywood Beach Resort.

GFLCVB TEAM IN ACTION
Check out our team in action at various events and functions around the world. Click here to see.

HAPPENINGS AROUND TOWN
Through Jan 21: Light Up Lauderdale, Riverwalk, downtown Fort Lauderdale
Dec 1: Christmas on Las Olas
Dec 2: Christmas-by-the-Sea, Lauderdale-by-the-Sea
Dec 3: Howie Mandel, Coral Springs Center for the Arts
Dec 3-5: Florida Grand Opera presents The Barber of Seville, Broward Center for the Performing Arts
Dec 4: Light Up Sistrunk
Dec 8: Florida Panthers vs. Ottawa Senators, BB&T Center
Dec 10: Florida Panthers vs. Washington Capitals, BB&T Center
Dec 11-13: George Balanchine's The Nutcracker, Broward Center for the Performing Arts
Dec 12: Seminole Hard Rock Winterfest Boat Parade
Dec 12: Candy Cane Hunt, Riverside Park, Fort Lauderdale
Dec 12: Amy Schumer, BB& Center
Dec 12: Joy in the Park, Joseph C. Carter Park, Fort Lauderdale
Dec 17: Michael McDonald: This Christmas – An Evening of Holiday & Hits, Hard Rock Live
Dec 19: MetroPCS Orange Bowl Basketball Classic, BB&T Center
Dec 20, 22: Florida Panthers vs. Vancouver Canucks, BB&T Center
Dec 21: Santa on the Beach, Fort Lauderdale
Dec 26: Kevin Hart, Hard Rock Live
Dec 27: Florida Panthers vs. Columbus Blue Jackets
Dec 29: Florida Panthers vs. Montreal Canadiens, BB&T Center
Dec 30: Kwanzaa Nia, Bass Park, Fort Lauderdale
Dec 31: Billy Joel, BB&T Center
Dec 31: Fort Lauderdale Orange Bowl Downtown Countdown
Best wishes,





Nicki E. Grossman
President