(photo courtesy of FtLauderdaleSun)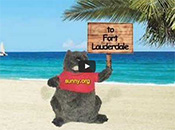 HAPPY GROUNDHOG'S DAY                                 
6 more weeks of winter? We hope so, but we'll find out tomorrow! In the meantime, see how Punxsutawney Phil warms up in Greater Fort Lauderdale: sunny.org/groundhog!  

YEAR-END STATS
Year-to-date 2015 hotel occupancy is up 1.2% over 2014 and ADR is up 6.3% over 2014 (both the highest year-end ever). RevPar is up 7.6% over 2014.
GREATER FORT LAUDERDALE AVERAGE HOTEL OCCUPANCY
December 2015
December 2014
% Change
79.9%
80.1%
-0.2%
GREATER FORT LAUDERDALE AVERAGE HOTEL DAILY RATE
December 2015
December 2014
% Change
$143.79
$135.38
+6.2%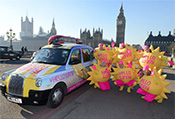 HELLO SUNNY SHARES THE WARMTH AROUND LONDON
The Greater Fort Lauderdale Convention & Visitors Bureau brought the sunshine to London in January. A team of "Hello Sunnys" greeted winter-weary pedestrians with beach-ready giveaways at Liverpool Street Station, South Bank and One New Change on Thursday, January 21, spreading warmth and cheer from Broward County's 23 miles of Blue Wave certified beaches. One lucky UK winner will receive a 7-night getaway to Greater Fort Lauderdale for two including round-trip airfare on British Airways. A fleet of 25 Hello Sunny branded taxicabs have been driving around London from Nov through Feb, complete with seat back video and branded taxi receipts.
Nicki Grossman hit the airwaves for 28 radio segments supported by celebrity psychologist Geoff Beattie, to discuss how a holiday in Greater Fort Lauderdale could help to alleviate the winter blues. The interviews aired throughout the UK and even went global through the British Armed Forces network. Nicki also hosted a well-attended media breakfast reception where journalists learned to make Florida style 'sunny marys.'
In addition to the media and consumer activities, the Hills Balfour public relations team also organized multiple meetings for Richard Gray during his time in London including leading UK transgender celebrities Kellie Maloney and Rebecca Root and with reality TV star Charlie King.
TASTE FORT LAUDERDALE
For the first time, the Food Network & Cooking Channel South Beach Wine & Food Festival presented by FOOD & WINE (SOBEWFF®) heads up the coast to host the inaugural Taste Fort Lauderdale event series during the 15th annual festival, February 24-28, 2016. The five-day Taste Fort Lauderdale series will kick off with a Seaside Eats event at the Bonnet House Museum & Gardens, hosted by Chef Robert Irvine, followed by events at Casa D'Angelo Ristorante featuring Gabriele Corcos and Debi Mazar, S3 featuring Todd English, Valentino Cucina Italiana featuring Marc Vetri, Kuro featuring Justin Warner, and end with a Bloody Mary Brunch at The Ritz-Carlton, Fort Lauderdale, hosted by the cast of Chopped. Organizers are thrilled with the response as events are selling out quickly! Visit sunny.org/tastefortlauderdale for more info.
DID YOU KNOW?
Greater Fort Lauderdale has been named a Top 10 Family Destination in KAYAK's 2016 Travel Hacker Guide, an interactive resource full of data-driven insights and hacks.  The 2016 Guide was curated by KAYAK's team of data scientists and travel experts who analyzed the site's more than one billion annual searches to identify key insights on where to go and when to book to make travel planning easier. Click here to see!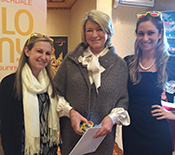 WEDDING SEASON - IT'S A GOOD THING
Last month, Anna Levin, our Ambassador of Bliss, along with Sheri Benkendorf from The Ritz-Carlton, Fort Lauderdale, attended the Martha Stewart's Wedding Party in NYC, showcasing Greater Fort Lauderdale as the perfect wedding destination to more than 900 brides in attendance.

VALENTINE'S DAY
To attract visitors looking for romance, we invite you to create special offers like spa treatments for two, wine pairings or other creative ideas. We are featuring your offers on sunny.org/valentine and our social media outlets. Submit your offers under your partner login at sunny.org/partneraccess. If you do not know your partner login, contact Michelle mireynolds@broward.org. When creating your coupons for your special offers, be sure to select the Valentine Deal category. If you have any questions, feel free to contact Justin jflippen@broward.org.
SPORTS DEVELOPMENT                         
Sports Development welcomes more than 25,000 athletes, coaches, and families to Greater Fort Lauderdale in February, attending events such as: the USA vs Chile Rugby Tournament at Central Broward Regional Park, the A1A Marathon and Half Marathon and Expo in Fort Lauderdale, the International Water Polo Tournament in Coral Springs, the Fort Lauderdale International Billfish Tournament, the SAHOF (Statewide Amateur Hockey of FL) Hockey Championships at the ICEDEN in Coral Springs, and the Weston Cup Soccer Tournament.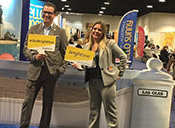 TOURISM SALES                   
In January, Fernando Harb, Erick Garnica and Caitlan Etchevers attended Florida Huddle in Tampa, and met with hundreds of domestic and international buyers. Caitlan Etchevers attended AAA travel marketplace in Columbus, OH with more than 18,000 consumers and travel professionals stopping by the booth. Caitlan also was inducted as a new Rotarian with the Fort Lauderdale Cypress Creek club, and joined local travel agents for an educational afternoon at the NACTA South Florida at their monthly meeting at Flamingo Gardens. Justin Flippen joined other members of the CVB, including Albert Tucker, at the grand opening of the Lauderhill Performing Arts Center.
SNAPSHOT FROM THE UK OFFICE
The GFLCVB UK team had a busy start to 2016 supporting the efforts of the CVB bringing some much needed Greater Fort Lauderdale sunshine to London. The team coordinated with Expedia on Magic FM for giveaways, activations at London Liverpool Street Station, South Bank and One New Change, along with hosting a media breakfast where journalists learned to make Florida style 'sunny marys' and organized 28 radio interviews for Nicki Grossman, supported by celebrity psychologist Geoff Beattie, to discuss how a holiday in Greater Fort Lauderdale could help to alleviate the winter blues. The PR team also organized multiple meetings for Richard Gray during his time in London including leading UK transgender celebrities Kellie Maloney and Rebecca Root and with reality TV star Charlie King.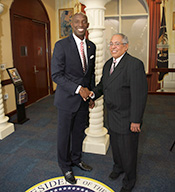 MULTICULTURAL BUSINESS DEVELOPMENT
Greater Fort Lauderdale hosted the 2016 Urban League Association of Executives conference in January. Angella Lopez continues to work on booking the 2017 and 2018 programs. Greater Fort Lauderdale will host the National Organization of Black Law Enforcement Executives Symposium (NOBLE) February 11-14, which will welcome leadership from all of the law enforcement agencies such as Homeland Security, FBI, and CIA. This will be the precursor of the National Conference coming to GFL in 2018. Albert Tucker also attended the President Barack Obama: The Exhibition at the Miramar Cultural Center last month.
CELEBRATE BLACK HISTORY MONTH
Greater Fort Lauderdale celebrates its rich history and spirit of diversity during Black History Month. Click here to read about important landmarks and groups that are central to Broward's past and present.
FLYING HIGH
Total passenger traffic for December 2015 was 2,599,525, up 7.8% over December 2014. Domestic traffic increased by 8.1% and international traffic was 7.8%. It was also the 21st consecutive month of growth in total passengers. Total passenger traffic for 2015 was 26,941,511 up 9.3% over 2014. Domestic traffic was up 7.3% and international traffic increased by 18.0%. Airports Council International (ACI) data for the 12 months ending November 2015 listed FLL as the 4th fastest growing airport with total traffic up 9.4%. Air carrier operations for the year were 239,940 up 7.9% over 2014. General Aviation was 38,062, up 5.7%. Total aircraft operations were 278,000, up 7.6%. Calendar year 2015 vs. 2014 flight and destination comparison include: six more daily international departures in 2015 (now at 66); three more international destinations (now at 50); sixteen more daily domestic departures (now at 236); nine more domestic destinations (now at 75); twenty two more daily total departures (302); and twelve more destinations (now at 125).
New airlines serving FLL for 2015 included Dynamic Airways to Caracas, Venezuela and Cape Air to Bimini. New service for 2015 international and domestic Caribbean service includes: JetBlue to Quito, Ecuador in February 2016, Barbados in April 2016, and Aguadilla (Puerto Rico) in May 2016. New or upcoming domestic service includes: JetBlue to Syracuse (seasonal service) in January 2016, Nashville in May 2016, and San Diego in June 2016; Spirit to Philadelphia in April 2016. FLL now offers Mobile Passport Control. This free downloadable app allows eligible travelers to submit their passport information and customs declaration form to CBP via a smartphone or tablet app prior to arrival cutting wait times and allowing faster processing.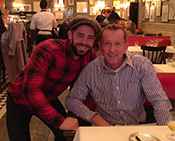 LGBTQ MARKETING
Congrats to Richard Gray and GFLCVB for receiving the eTN Honest Travel Award from eTurboNews.com. Click here to read about it. Richard Gray participated in the UK Hello Sunny Activation in London Jan 18-22 meeting with key media as well as transgender celebrities Rebecca Root, the star of Where Boy Meets Girl; and Kellie Maloney, the boxing manager who recently became a transgender woman, both interested in promoting GFL's Southern Comfort Transgender Conference in the UK. In January, Passport Magazine had a swim wear cover shoot in Fort Lauderdale, the first transgender female to male swimwear cover by a national magazine. In February, Richard will attend Visit Florida's New York press reception, meeting with key LGBT media. GFL will host the Bears of All Colors Event, Feb 25-29 with the Ramada Oakland Park Inn as the host hotel. GFL will also host more than 10,000 transgender, lesbian and gays visitors on three sell out cruises from Port Everglades in February. And gay sports is very strong this month with gay rugby, flag football, tennis and volleyball all hosting events here.
OFFICE OF FILM, MUSIC, ENTERTAINMENT & CREATIVE INDUSTRIES (OFME)
Noelle Stevenson attended Sundance Film Festival, hosting a Kreate Films/CVB OFME event with key film distributors in attendance focusing on film projects shot in Broward County. In addition key industry leaders attended this annual film festival including daily AFCI events. Paramount Picture's Baywatch feature film sets shop in Broward County with the remake of the renowned TV series. Cast includes Zac Efron, Dwayne Johnson, Alexandra Daddario, Priyanka Chopra, Kelly Rohrbach, Ilfenesh Hadera, and Jon Bass. 

Film Permits were issued for the following productions in January 2016: TV Series: HBO's Ballers; I Am Jazz – Season 2; Par 3. TV Commercials: AutoNation; Corona; DeliChoc; Meli Orthopedic; Seamless-Altisource; Spies Travel; We Florida Financial.  Still Photography: Balfour; Belk; Bon Prix; C&A; Canadian Tire; Falcon 2000 at Sunset; FEIBA; Roberta Roller Rabbit; Tether; The Children's Group; Toys R Us; Valentine's Day Minis.  Telenovelas: La Trailera. Documentaries: Vermisst (Missing); Visit Florida Tudou Video. TV Movie or Special: Shamrock vs. Gracie: The Road to Revenge. Industrial: GFLCVB Delegates. Music Video: Vespers Nine – Yes You. PSA:  Travel Centers of America – Tips. Web: Humira; KidVision VPK – Yoga in the Park. Other: Broward College LINCS Program; Color Splash Video; Que Noche con Angelica y Raul.   
FEBRUARY GROUP SALES & SERVICES UPDATE
Groups meeting in February will generate more than $32 million to Broward County. Groups include:  
Feb 1-9: PRI-MED South 2016 (4000 attendees)
Feb 3-7: Ricky Tims Super Quilt Seminars (550 attendees)
Feb 4-11: 2016 ISET – Int'l Symposium on Endovascular Therapy (727 attendees)
Feb 5-9: Rugger Convergence 2016 (600 attendees)
Feb 6-10: National Association of Chain Drug Stores Regional Chain Conference 2016 (270 attendees)
Feb 7-10: NICSA 2016 Annual Conference (350 attendees)
Feb 7-14: 2016 MoreDirect Solutions Summit Meeting (500 attendees)
Feb 10-14: 2016 Winter CEO Symposium and Executive Board Meeting (300 attendees)
Feb 11-16: NLMC 2016 (250 attendees)
Feb 12-17: Florida Sunshine Cup 2016 (700 attendees)
Feb 12-17: 2016 Clay Court Classic (500 attendees)
Feb 13-21: 2016 HCV Launch (530 attendees)
Feb 17-24: ABRF 2016 Annual Meeting (450 attendees)
Feb 17-27: 2016 Celgene Corporation National Sales Meeting (965 attendees)
Feb 19-27: Nielsen US Media Summit (350 attendees)
Feb 21-Mar 4: BMO Capital Markets 2016 Global Metals & Mining Conference (1000 attendees)
Feb 25-Mar 6: 2016 Workforce Development Conference (1050 attendees)
Feb 28-Mar 6: BISA 2016 Annual Meeting (500 attendees)
Feb 29-Mar 5: American Glaucoma Society 2016 Annual Meeting (320 attendees)
WHAT'S NEW
The Boarding (formerly the Cheese Culture) recently opened on Las Olas Blvd featuring artisan cheeses, charcuterie & tapas. The Casino @ Dania Beach reopened after a complete renovation with 900 Las Vegas-style slot machines, a 24-table card room, nationally known recording artists and comedians, a simulcast lounge and sports bar, multiple dining options and live Jai-Alai.  Paddle Lodge launched a service transporting your watercraft (kayaks and/or SUP) to remote areas within Broward County providing a different way to see the local waterfront scene. The free shuttle to Deerfield Island Park now leaves from Pioneer Park as the original site undergoes upgrades.  The Lauderhill Performing Arts Center officially joined the arts community with a ribbon cutting and free performances last month.
WATER TAXI EXPANDED ROUTES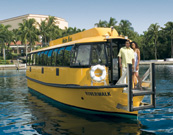 The Water Taxi expanded routes and the number of stops, particularly in Hollywood including:
Daily express service between Hilton Fort Lauderdale Marina / Convention Center (new stop number 6) and Margaritaville Hollywood Beach Resort (New Stop number H1)
18 round trips per day beginning at 10am in Fort Lauderdale and 10:45am in Hollywood
Departures from both locations every 45 minutes
Last departure from Fort Lauderdale to Hollywood is 10pm
Last Departure from Hollywood to catch connections to other Fort Lauderdale routes is 9:15pm or 10:45pm to connect to Stop 6 only
New Local Route in Hollywood has 5 Hollywood Stops which all connect with the Express Route at Margaritaville Hollywood Resort
Local Hollywood only route of only $16 hop on / hop off all day
Upgradeable for $10 to include Fort Lauderdale rates
The new Stop at Beachwalk Resort in Hallandale is the most southern Water Taxi stop
New stop on the New River in Fort Lauderdale located between the Stranahan house and the Riverside Hotel behind the Cheesecake Factory
New Riverside/Stranahan Stop 3 will allow access to more of Las Olas Boulevard to Water Taxi guests.
VOTE
Vote for two Fort Lauderdale eateries on USA Today's Favorite Airport Grab-And-Go Dining List: Shula Burger, located in Terminal 1 and in Terminal 3 Food Network Kitchen. Click here to vote!
CONGRATS
Rodeway Inn & Suites - Fort Lauderdale Airport & Cruise Port, a budget-friendly, full-service Fort Lauderdale hotel near Port Everglades Cruise Port and near FLL, recently was named the top hotel destination for cruise passengers by the Port Everglades Cruise Survey study, commissioned by Broward County's Port Everglades Department. Read more here.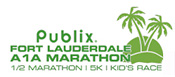 PACE YOURSELF: GREATER FORT LAUDERDALE WELCOMES A1A MARATHON
The Publix Fort Lauderdale A1A Marathon & Half Marathon invites you to participate in the 10th annual running of the event on Feb 14. Anyone interested can register at A1AMarathon.com.
SUBMIT YOUR EVENTS FOR SUNNY.ORG
Does your hotel, restaurant, attraction or organization have a visitor-friendly or tourist-oriented event you'd like to see up on Sunny.org?  If so, event submission is just a click away!  Simply visit www.sunny.org/submit to input the details of your event, including location, dates, times, admission cost (if any), website, and event description.  Be sure to select the applicable category for your event and also include and upload a high resolution picture for your event or a photo of the venue at which your event is taking place.  Your event submission will then be reviewed, and once approved it will be immediately placed up on our online events calendar for all to see. Questions? Contact Justin jflippen@broward.org.
HAPPENINGS AROUND TOWN
Through Feb 7: Violet, Broward Center for the Performing Arts
Through Feb 29: President Barrack Obama: The Exhibition, Miramar Cultural Center
Through Feb 7: The Book of Mormon, The Broward Center for the Performing Arts
Feb 1: The Zukerman Trio, The Broward Center for the Performing Arts
Feb 2: Groundhog Day on Hollywood Beach!
Feb 4: Detroit Red Wings vs Florida Panthers, BB&T Center
Feb 4: Under the Streetlamp, Parker Playhouse
Feb 5-6: Pinkalicious The Musical, Broward Center for the Performing Arts
Feb 5: Black Violin, Parker Playhouse
Feb 5-6: Casablanca, Broward Center for the Performing Arts
Feb 5-7 Seminole Tribal Fair and Pow Wow, Hard Rock Live
Feb 5: Barry Manilow, BB&T Center
Feb 6: Pittsburgh Penguins vs Florida Panthers, BB&T Center
Feb 6: 16th Annual Black History and Dr. Martin Luther King, Jr. Celebration, Lauderhill Performing Arts Center
Feb 6: Chillounge Night, Huizenga Plaza, downtown Fort Lauderdale
Feb 7: Mardi Gras, History Museum of Fort Lauderdale
Feb 9: Diana Ross, Hard Rock Live
Feb 10:  Delfeayo Marsalis Quartet - Last Southern Gentlemen Tour, Broward Center for the Performing Arts
Feb 11-13: Florida Grand Opera presents Norma, Broward Center for the Performing Arts
Feb 11: Hillsong United, BB&T Center
Feb 12: St. Louis Blues vs Florida Panthers, BB&T Center
Feb 13: Nashville Predators vs Florida Panthers, BB&T Center
Feb 13-Mar 20: Florida Renaissance Festival, Quiet Waters Park
Feb 13: Be My Jazzy Valentine, Lauderhill Performing Arts Center
Feb 13-14: Andrea Bocelli, BB&T Center
Feb 14: A1A Marathon, Fort Lauderdale
Feb 15: Pittsburgh Penguins vs Florida Panthers, BB&T Center
Feb 16: Bruce Springsteen, BB&T Center
Feb 18: San Jose Sharks vs Florida Panthers, BB&T Center
Feb 19: Michael Flatley's Lord of the Dance: Dangerous Games, BB&T Center
Feb 20: Winnipeg Jets vs Florida Panthers, BB&T Center
Feb 20: Pompano Beach Heritage Music & Arts Festival
Feb 20-21: Miami City Ballet - Program III, Broward Center for the Performing Arts
Feb 20: Festival Foodie Feud, Festival Flea Market
Feb 24: Iron Maiden, BB&T Center
Feb 24: Experience Hendrix, Hard Rock Live
Feb 24-28: South Beach Food & Wine Festival: Taste Fort Lauderdale Series
Feb 25: Arizona Coyotes vs Florida Panthers, BB&T Center
Feb 26: Fall Out Boy, Hard Rock Live
Feb 26: Disney Live! Mickey and Minnie's Doorway to Magic, BB&T Center
Feb 27: Jeff Dunham, BB&T Center
Feb 27: The Beach Boys, Hard Rock Live
GFLCVB TEAM IN ACTION
Check out our team in action at various events and functions around the world. Click here to see.
Best wishes,

Nicki E. Grossman
President