HAPPY 2016!
Here's to a sunny and bright new year! A special thanks to our hospitality community as we say hello to 2016 after another record-breaking year. Growth in hotel occupancy continues (for the past 72 months) with the highest November average hotel daily rate and hotel occupancy in history! It is a pleasure to work with each of you, and soak up your enthusiasm and energy, as we make a splash in the new year!
GREATER FORT LAUDERDALE HOTEL OCCUPANCY

November 2015
 
November 2014
% Change

78.3%
 
78.2%
+0.1%
GREATER FORT LAUDERDALE AVERAGE HOTEL DAILY RATE

November 2015

November 2014

% Change

$133.83

$121.20

+10.4%
HELLO SUNNY SHARES THE WARMTH AROUND LONDON
The warmth and beauty of Greater Fort Lauderdale will be felt throughout London January 20-21. The GFLCVB will be spreading sunshine at the Liverpool Street Rail Station and several other locations throughout London to brighten up a "Blue Monday" week. Prizes, including a beach holiday to Greater Fort Lauderdale with partners British Airways and Expedia, will be given away. Ads in the Daily Telegraph, and an aggressive Magic radio promotion, combined with our live appearances, bus shelter and more than two dozen taxis, will feed the social media channels to create buzz and increase bookings from the UK to Greater Fort Lauderdale. Be sure to look for our posts (@VisitLauderdale) on Facebook, Twitter, Instagram and Periscope and share, like and repost on your own business and personal social media channels. Visit sunny.org/uk for more details. The campaign compliments Visit Florida's UK initiative throughout the month of January.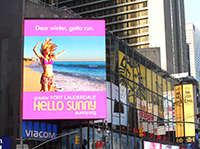 LOOK FOR US IN TIMES SQUARE
If you're in Times Square this winter, check out our twin billboards located at 1500 Broadway & 43rd St, Broadway at 49th St, and 1515 Broadway 44th & 45th Street and send us a pic!

VALENTINE'S DAY
To attract visitors looking for romance, we invite you to create special offers like spa treatments for two, wine pairings or other creative ideas. We will promote your romantic offers and feature them on sunny.org and our social media outlets. Submit your offers under your partner login at sunny.org/partneraccess. If you do not know your partner login, contact Michelle mireynolds@broward.org. When creating your coupons for your special offers, be sure to select the appropriate Valentine coupon category. If you have any questions, feel free to contact Justin jflippen@broward.org.
SUBMIT YOUR EVENTS TO SUNNY.ORG
Does your hotel, restaurant, attraction or organization have a visitor-friendly or tourist-oriented event you'd like to see up on sunny.org?  If so, event submission is just a click away!  Simply visit sunny.org/submit to input the details of your event, including location, dates, times, admission cost (if any), website, and event description.  Be sure to select the applicable category for your event and also include and upload a high resolution picture for your event or a photo of the venue at which your event is taking place (Click here for photo tips). Your event submission will be reviewed, and once approved it will be placed on our online events calendar. If you have any questions, please contact Justin jflippen@broward.org.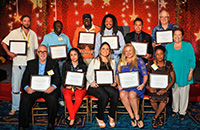 2015 SUNSATIONAL SERVICE COURTESY AWARD WINNERS
We salute your commitment to quality service - constant, consistent, and persistent. Congrats to the 2015 SUNsational Service Courtesy Award winners, pictured here with Nicki E. Grossman. Winners include: (First Row) John Brugos; Tracy Olivera; Lucia Rosa; Nadine Bankley; Rolande Paul; Nicki E. Grossman (standing in teal) (Second Row) Mark Davis; Nevoyel Belonce; Joseph Wilcox; Matthew Spokony; Santiago Navarro; David Ivy. (Not shown) Vidya Balakrishnan. Click here to read their stories.

TOURISM SALES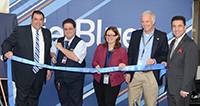 In December, Fernando Harb, along with Carlos Molinet, Kim Butler and Christine Tascione, attended Visit Florida Leadership Summit held in Amelia Island to discuss new trends, and informative presentations. Fernando also attended the America's Cup 2015 in Palm Beach, welcoming more than 30 senior level Directors of International Tour Operators over a four day period drawing participants from Brazil, Canada, Colombia, Germany, United Kingdom as well as domestic operators. Caitlan Etchevers attended Travel Savers Boot Camp with more than 45 travel agents at the Hyatt Regency Pier 66, and the United States Tour Operator Association Annual Conference meeting with key tour leaders and promoting GFL for the 2017 annual conference at the Diplomat Resort & Spa. Caitlan also attended a tradeshow and networking event for Cruise One New Franchise Owners at the Sheraton Suites Fort Lauderdale. The CVB team helped JetBlue celebrate the inaugural flight from Albany, NY last month, with ribbon cutting ceremony, destination fam and "Flight Bingo," with hotel stays from Diplomat Resort, Pelican Grand, Windjammer Resort, Hampton Inn Hallandale Beach, Riverside and more! Justin Flippen concluded his representation on the Broward100 centennial project. Duende, the grand finale celebration of Broward100 plans to become an annual cultural and artistic signature event in Greater Fort Lauderdale. Stay tuned for upcoming info.

SNAPSHOT FROM THE UK OFFICE
The UK team has been busy with many exciting projects kicking off in January 2016 including Visit Florida's "Love Florida" campaign.  The sales and marketing team is coordinating Greater Fort Lauderdale's activation including radio and broadcast. The UK office is also pushing forward with securing marketing proposals from key UK and Scandinavian tour operators to launch in 2016 and working closely with Brand USA to host a vlogger and blogger trip in Greater Fort Lauderdale.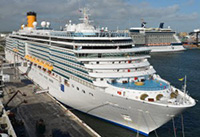 PORT EVERGLADES DEVELOPMENT 
Port Everglades broke its own world record for the most cruise passengers to embark and debark in a single day with 53,485 guests. The Port hosted eight cruise ships on December 20, 2015, including Carnival Cruise Line's Carnival Conquest, Celebrity Cruises' Celebrity Silhouette, Holland America Line's Eurodam and Nieuw Amsterdam, Princess Cruises' Regal Princess and Royal Princess, and Royal Caribbean International's Allure of the Seas and Navigator of the Seas. And Port Everglades welcomes back Costa Cruises to Broward County. An Italian cruise line owned by Carnival Corporation, Costa Cruises has sailed from Port Everglades since the 1960s and is returning for the winter season following a four-year hiatus.
FLYING HIGH
Total passenger traffic for November 2015 was 10.3% over November last year. Domestic traffic increased by 9.5%, and international traffic was up 10.3%. November was the 24th consecutive month of double-digit growth in international passenger traffic. It was also the 20th consecutive month of growth in total passengers. Air carrier operations were up 5.3% over last year, general aviation was up 10.2% and total aircraft operations was up 6.0% over November 2014. Total passenger traffic for calendar year 2015 will exceed 26 million and will continue to grow in 2016. Airports Council International (ACI) data for the 12 months ending October 2015 lists FLL as the 3rd fastest growing airport with total traffic up 9.3%. Recent/Upcoming international service includes: Dynamic Airways with service to Maracaibo, Venezuela (Dec 2015); JetBlue started service to Providenciales (Turks and Caicos) (Nov 2015) and will begin service to Quito, Ecuador (Feb 2016); Barbados (Apr 2016) and Aguadilla (Puerto Rico) (May 2016). Recent/Upcoming domestic service includes: JetBlue with service to Baltimore, Charleston, and Philadelphia (Nov 2015); Albany (Dec 2015); seasonal service to Syracuse (Jan 2016) and new service to Nashville (May 2016). Southwest with service to Minneapolis (Jan 2016). Allegiant began service to Portsmouth, NH; Akron, OH; and Rochester, NY (Oct 2015); San Antonio (Nov 2015), and returned to Grand Rapids, MI (seasonal, Dec 2015). Spirit will begin new service to Philadelphia (Apr 2016).

SPORTS DEVELOPMENT                         
Sports Development welcomes more than 30,000 athletes, coaches, and families to Greater Fort Lauderdale in January, attending events such as: the Major League Soccer Combine and National Soccer Coaches Re-certification at Central Broward Regional Park, the USTA Pro Circuit Men's Futures Tennis Tournament at the Frank Veltri Tennis Center in Plantation, the Florida Lacrosse Classic in Weston, and the Rising Stars Girls Softball Nationals and Showcase in Davie/Plantation.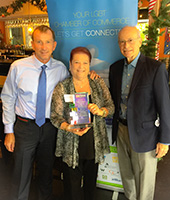 LGBTQ MARKETING
The 16th Community Marketing & Insights Conference was a success at the Westin Fort Lauderdale Beach Resort last month. Richard Gray presented results from the LGBTQ families first-ever survey in North America, conducted by the CVB (another first for the GFLCVB), and also presented the destination's transgender sizzle reel highlighting the huge success of the Southern Comfort Transgender Conference in September. Also in December, Pride Fort Lauderdale presented Nicki Grossman with the Fort Lauderdale Award of the Year at the GFL GLCC monthly luncheon at Thirteen in Wilton Manors. January kicks off with the FLIRT annual regional gay bowling tournament and Atlantis Events' sold out gay cruise on Royal Caribbean's 3100 passenger Navigator of the Seas, departing Port Everglades on Jan 23, and Olivia Cruises' sold out lesbian cruise on Holland America's 1900 passenger Westerdam departing on Jan 30.

JANUARY GROUP SALES & SERVICES UPDATE
Groups meeting in January will generate more than $28 million to Broward County. Groups include:  
Jan 7-16: 2016 Blackboard Sales Kick-off Meeting (1000 attendees)
Jan 8-16: Electric and Hybrid Marine World Expo (600 attendees)
Jan 11-18: 2016 Annual American Academy of Cosmetic Surgery (500 attendees)
Jan 12-18: FLIRT 2016 Bowling Tournament (250 attendees)
Jan 14-26: Tropical Plant Industry Exhibition (1100 attendees)
Jan 16-17: The Jazz Cruise (200 attendees)
Jan 17-23: Ultimate Software Sales Kick off Meeting (300 attendees)
Jan 20-30: ETF.com 2016 (800 attendees)
Jan 24-29: Int'l Union of Operating Engineers Winter meeting (400 attendees)
Jan 24-29: Technology Marketing Corporation ITEXPO 2016 (300 attendees)
Jan 24-30: Association of Marina Industries IMBC 2016 (300 attendees)
Jan 25-31: 50th AUPO Annual Meeting (400 attendees)
Jan 28-30: 2016 Pre-Cruise Group, Olivia Companies (500 attendees)
Jan 29-Feb 4: LPL Financial Program Leadership Conference (450 attendees)
Jan 29-Feb 6: Fertilizer 2016 Marketing Business Meeting (700 attendees)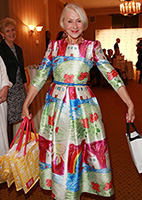 OFFICE OF FILM, MUSIC, ENTERTAINMENT & CREATIVE INDUSTRIES (OFME)
OFME partnered with Gotham Awards in NYC meeting with key industry professionals. Celebrities and filmmakers took home OFME Flick/Hello Sunny robe. Key attendance included Helen Mirren (shown here), Mark Ruffalo, Cynthia Nixon, Robert De Niro, and Rosie Perez. FLIFF and OFME celebrated the 30th Fort Lauderdale's International Film Festival with hundreds of screenings between Fort Lauderdale and Hollywood at various venues and events including the black tie Chairman's Award Ball featuring Ed Harris as the guest of honor, and Victor Nunez and Amy Madigan.

This month, OFME welcomes the cast and crew of Paramount Pictures feature film 'Baywatch,' which begins filming in Broward January 2016. Special thanks to Port Everglades, our municipalities and Broward hotels for accommodating. Garth Brooks makes his first appearance in South Florida in 19 years at the BB&T Center Jan 14-16. Click here for hotel packages. And Noelle Stevenson will attend the Sundance Film Festival, hosting an event in partnership with Kreate Films.

Film Permits were issued for the following productions in December 2015: TV Series: American Diner Revival; Friends Trips; HBO's Ballers; Mysteries at the Museum; Rude Tube.  TV Commercials: Celebrity Cruises; Snickers; Tender Romance by Ralph Lauren.  Still Photography: Belk; Christmas Minis; Dearfoam Slippers; Graco Baby Shoot; Spring Step Footwear; Stage Stores.  Telenovelas: La Trailera; Quien es Quien.  Documentaries: Overcomers – The Webseries; Paul Hollywood City Bakes; SehnSucht. Feature Film: Dreams So Real; Tiny Dancers. Industrial: Raymarine / FLIR Boating Products. Web:  Transitions. Other: Andante – Short Film; SPEC.  

WHAT'S NEW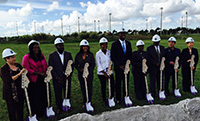 The CVB participated in the groundbreaking of the Miramar Amphitheater at Regional Park. The amphitheater will have a seating capacity of 3,000 under the cover of a 28-thousand sq-ft canopy with additional lawn seating on the promenades to host events such as live music concerts, corporate retreats, art and book fairs, festivals, fundraising/charity events, outdoor plays and more. The Westin Fort Lauderdale announces the finalization of a multi-million transformation centered upon a dramatic room design for all 298 guestrooms and suites designed as a modern-day oasis from the demands of travel with a soothing color palette and natural design touches. The Westin has also launched a new menu for their signature restaurant, Alfiere's Mediterranean Bistro, feeding the body and nourishing the soul. Sonesta Fort Lauderdale Beach welcomed Executive Chef Jorge Cardenas to their team. Chef Jorge will oversee operations and culinary specialties at their full-service, beach-chic restaurant, Bistro. The Fort Lauderdale Water Taxi began daily service to the 5 O'clock Somewhere Bar & Grill at the new Margaritaville Hollywood Beach Resort. The Westfield Broward Mall announced its first solo artist exhibit at The Art Gallery at Westfield Broward. Fostering local talent, the exhibit will feature works by artist Erin Basset over a 6 week period. ME! Bath is proud to present the Ice Cream Collection in a retail store pop-up at ME SPA Pembroke Pines at the Shops at Pembroke Gardens.

CONGRATS
We are pleased to announce the Winterfest Boat Parade made the list for the 10Best and USA TODAY's Readers' Choice contest for Best Holiday Festival.

GFLCVB TEAM IN ACTION
Check out our team in action at various events and functions around the world. Click here to see.

HAPPENINGS AROUND TOWN
Through Jan 21: Light Up Lauderdale, Riverwalk, downtown Fort Lauderdale
Jan 6-31: Diva Diaries, Broward Center for the Performing Arts
Jan 8-10: Shen Yun: Experience a Divine Culture, Broward Center for the Performing Arts
Jan 8: The Little River Band with Ambrosia and Player, Pompano Beach Amphitheater
Jan 9: 10th Annual FLIPANY Fun Run, Hollywood beach
Jan 9: Who's Bad: The Ultimate Michael Jackson Tribute Band, Parker Playhouse
Jan 9: John Sebastian, Broward Center for the Performing Arts
Jan 10: The Olate Dogs, America's Got Talent Winners, Broward Center for the Performing Arts
Jan 14-16: Garth Brooks, BB&T Center
Jan 15-16: 51st Annual Broward Shell Show, Emma Lou Olson Civic Center
Jan 16-17: Miami City Ballet - Program II, Broward Center for the Performing Arts
Jan 16: Riverwalk's 5th Annual Stone Crab & Seafood Festival
Jan 17: Winter Jam 2016, BB&T Center
Jan 18: Florida Panthers vs Edmonton Oilers, BB&T Center
Jan 21-Feb 7: Violet, Broward Center for the Performing Arts
Jan 22: Florida Panthers vs Chicago Blackhawks, BB&T Center
Jan 23: Florida Panthers vs Tampa Bay Lightning, BB&T Center
Jan 26: Florida Panthers vs Toronto Maple Leafs, BB&T Center
Jan 26-Feb 7: The Book of Mormon, Broward Center for the Performing Arts
Jan 29: Def Leppard with special guest Styx & Tesla, BB&T Center
Jan 29: Frankie Valli & The Four Seasons, Hard Rock Live
Jan 30: Jim Jefferies, Hard Rock Live
Jan 30-31: Fort Lauderdale Fine Art Festival, Huizenga Plaza
Jan 31: KISS Country Chili Cook-off, CB Smith Park
Best wishes,





Nicki E. Grossman
President