(Photo courtesy of FtLauderdalesun)
SEPTEMBER NUMBERS
Growth in hotel occupancy continues (for the past 70 months) with the highest September average hotel daily rate and hotel occupancy in history! 
GREATER FORT LAUDERDALE AVERAGE HOTEL OCCUPANCY
Sept 2015
Sept 2014
% Change

66.1%

64.2%

+3.1%

GREATER FORT LAUDERDALE AVERAGE HOTEL DAILY RATE
Sept 2015
Sept 2014
% Change

$101.92

$96.71%

+5.4%
NEW SUNNY.ORG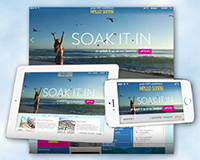 The CVB is proud to present a new look for sunny.org. With 30% (and climbing) of the 250,000 unique monthly visitors using their mobile device to access the web, the new site is fully-responsive and optimized for mobile and tablet viewing.

New and enhanced features include:
- Large-format beautiful imagery, including video and cinemagraphs throughout
- Streamlined, mobile-friendly, navigation for easy access to visitor info, meetings, travel trade, sports development, media and Office of Film & Entertainment
- Web pages and listings designed for social sharing
- What's Near Me geo-location technology -- hotel, attraction, restaurant listings are displayed according to the user's location
WHAT YOU NEED TO DO: Search for your listing or event. The new larger size photos may require you to send us new images. You can upload them through the sunny.org/partnerlogin or email Rita at rwells@broward.org. You can also use this process to update your listing description and add/revise your special offers.
NOMINATE & SAVE THE DATE: SUNsational Service Courtesy Awards, Dec 10
We need your nominations for the 2015 SUNsational Service Courtesy Awards! We will recognize the front line hospitality employees who go above and beyond at a special holiday luncheon, Thurs, Dec 10 at the Broward County Convention Center. As we strive to provide SUNsational Service to Greater Fort Lauderdale visitors, we invite you to submit a nomination to recognize the most helpful, courteous hospitality industry employees - valet, lifeguard, bellman, housekeeper, taxi driver, server, baggage handler, reservationist, etc. Click here to nominate. Remember to submit nominations by Tuesday, November 10. Contact Rita Wells rwells@broward.org with questions.

TASTE FORT LAUDERDALE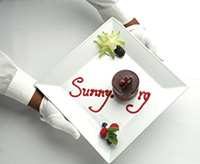 For the first time, the Food Network & Cooking Channel South Beach Wine & Food Festival presented by FOOD & WINE (SOBEWFF®) will expand north to host the inaugural Taste Fort Lauderdale event series during the 15th annual festival, February 24-28, 2016. The five-day Taste Fort Lauderdale series will kick off with a Seaside Eats event at the Bonnet House Museum & Gardens, hosted by Robert Irvine, followed by events at Casa D'Angelo Ristorante featuring Gabriele Corcos and Debi Mazar, S3 featuring Todd English, Valentino featuring Marc Vetri, Kuro featuring Justin Warner, and end with a Bloody Mary Brunch at The Ritz-Carlton, Fort Lauderdale, hosted by the cast of Chopped. Visit sobefest.com for more info.  
                                                                                                  
NOVEMBER GROUP SALES & SERVICES UPDATE
Groups meeting in November will generate more than $23 million to Broward County. Groups include:  
Nov 1-7: National Indian Gaming Association Mid-Year Conference (250 attendees)
Nov 1-7: Global Mobility Conference (524 attendees)
Nov 6-12: 21st Annual CUNA Lending Council Conference (420 attendees)
Nov 6-13: EEI 50th Financial Conference (956 attendees)
Nov 7-15: American Copper Council Meeting (260 attendees)
Nov 8-12: Team National Pre Cruise Group (800 attendees)
Nov 9-12: SIIA Business Info & Media Summit (275 attendees)
Nov 9-14: Tyco Annual Leadership Meeting (400 attendees)
Nov 9-16: 2015 Cruise World (310 attendees)
Nov 9-18: Int'l Esthetics, Cosmetics, and Spa Conference (300 attendees)
Nov 10-13: Association for Corporate Growth Capital Connection (300 attendee)
Nov 11-20: PhocusWright Conference (855 attendees)
Nov 17-23: Yoga Journal (300 attendees)
Nov 28-Dec 7: Mayo Clinic's Int'l Dementia with Lewy Body Conference (245 attendees)
Nov 30-Dec 6: Florida Public Defender Association, Inc. Winter Training Program (250 attendees)

TOURISM SALES                   
In October, Fernando Harb was in Germany for the annual sales mission with tour operators and travel agents. He also participated at Hotelbeds Conference in Mexico, ITB Asia Singapore, and wrapped up the month participating in the Marketing Outlook Forum in Philadelphia, before heading out to World Travel Market in the UK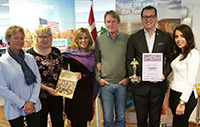 with Erick Garnica. Erick, along with Jessica Savage, helped coordinate the inaugural JetBlue flight from Mexico City at the airport, which included the Consul General of Mexico in Miami. A press conference was held in Mexico City to welcome the flight from FLL with media and political dignitaries from the Mexico City Tourism Board, followed by a media fam in Greater Fort Lauderdale for journalists from the major newspapers throughout Mexico, trade publications and well known bloggers. To wrap up the month, Erick participated with Visit Florida in a Scandinavia Sales Mission, conducting sales calls and workshop presentations in 4 cities and 3 countries in one week.

Caitlan Etchevers hosted the EASA - Copa Airlines fam with Fernando Harb showcasing the destination to nine top agents from Costa Rica. Caitlan also attended Florida International Trade & Cultural Expo (FITCE) at the Broward County Convention Center, with Port Everglades. Caitlan traveled to Cancun, Mexico to network at the Mark Travel Summit 2015, meeting with more than 600 agents in three days. She also attended the Home Based Travel Agent Show in Tampa hosting round table sessions for 50 agents. Justin Flippen attended the Broward100 VisualEYES Mural unveiling at the Edgar P. Mills Family Success Center featuring the artwork of Nate Dee. He also attended the dedication of Dale Chihuly's artwork Coral Glow Persian Sconce Wall in Terminal 4 at Port Everglades, and took part in the unveiling of artist Wayne White's giant puppet of Broward County's namesake, former Governor Napoleon Bonaparte Broward, in FLL's Terminal 1. As a member of the Broward100 Art of Community Programming Committee, Justin also took part in the approval of VisualEYES mural artwork to be completed later in the year at locations in Davie, Miramar, and Pompano Beach. 

SNAPSHOT FROM THE UK OFFICE
The GFLCVB UK office has been busy preparing for World Travel Market, the leading global event for the travel industry. In addition to hosting 60 trade and media at the annual pre-WTM luncheon, the team has arranged 33 trade and media meetings for the CVB.

SPORTS DEVELOPMENT
Sports Development welcomes more than 20,000 athletes, coaches, and families, attending events such as: Super Stars Softball Showcase in Davie/Plantation, NHL Sled Hockey Classic at the ICEDEN in Coral Springs, 13.1 Half Marathon in Fort Lauderdale, Hurricane Showdown at Mills Pond Park, and SE Circuit Rodeo Finals at Bergeron Rodeo Grounds in Davie.
                         
SPORTS HALL OF FAME BANQUET AND INDUCTION DINNER
Congratulations to the Class of 2015 who will be inducted into the Broward County Sports Hall of Fame tomorrow, November 3 at the Broward County Convention Center. Inductees include: Eddie Jones/Basketball; Marty Hendrick/Swimming; Steve Hutchinson/Football; Charlie Partridge/Football; Ryan Shealy/Baseball and Lisa Zielinski/Volleyball. Click here for bios. Contact Saskia Fisher sfisher@broward.org for more info.

LGBTQ MARKETING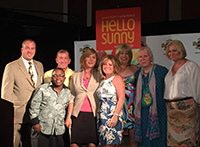 Man About World's 3rd Annual Editor's Choice Award recognized Greater Fort Lauderdale as the Best Social Media Campaign for its innovative "Love is Love" event and tireless efforts towards equality for the LGBTQ market. The Southern Comfort Conference, held last month at the Bonaventure Resort & Spa with more than 500 attendees, was a major success. Richard Gray was honored with two awards from Southern Comfort and the Trans Latino Coalition. Jazz Jennings, the star of TLC's I Am Jazz, was the keynote speaker, and Zachary Drucker, co-producer of the Emmy TV show Transparent, was also in attendance. Click here for a conference video recap. Southern Comfort Conference returns next year September 27-October 2. The National Association of Gay & Lesbian Real Estate Professionals (NAGLREP) also had a record attendance at their conference held at Hyatt Regency Pier Sixty-Six last month. In November Richard will be attending WTM in London, speaking about GFL's transgender initiative and will also be attending the NGLCC national dinner at the National Building Museum in DC with Virginia Sheridan from Finn Partners and Keith Blackburn from the Greater Fort Lauderdale Gay & Lesbian Chamber of Commerce. As a new board member of the International Gay & Lesbian Travel Association, Richard invites anyone interested in membership to visit http://iglta.org/join, and learn how to reach LGBT travelers at the 16th Conference on LGBT Tourism & Hospitality, Dec 9-11 at the Westin Fort Lauderdale Beach Resort, with more than 30 speakers in marketing, sales, public relations and research. Register here.
OFFICE OF FILM, MUSIC & ENTERTAINMENT (OFME)
The 7th Annual MiFo LGBT Film Festival in Fort Lauderdale was a record-breaking success, with nearly 5,000 tickets sold. The wide array of films included 7 documentaries, 28 narratives and 18 shorts from 13 countries. The inaugural "South Florida Chilllounge Night," in downtown Fort Lauderdale, takes place Dec 4 featuring the most unique and fascinating outdoor lounge party with live bands, fashionable daybeds, cabanas and outdoor furnishings in an intimate and majestic setting for thousands to enjoy food, drink and entertainment. Visit chillloungenight.com. The live music scene continues to heat up in 2016 with the annual Rock the Ocean's Tortuga Music Festival on Fort Lauderdale beach (with an additional third day), April 15-17. Headliners include Blake Shelton, Tim McGraw and Dierks Bentley.

Film Permits were issued for the following productions in October 2015: TV Series: Darkside Miami; Mega Shippers TV Commercials: Captain Morgan's; Michaels Craft Store; Palmetto 57 – Nissan/VW; Pet Supermarket Still Photography: Autumn Dinner Party – Styled Shoot; Swatch Beach Volleyball – Helipad Action Shooting; Belk; Countdown to Christmas; Challenger Aircraft; G450 Aircraft; Falcon Aircraft; Lear Jet; Monroe and Main Fashions; Richline; Versona Fashion Telenovelas: Quien es Quien; La Trailera TV Movie or Special: 2015 Halo Awards Hometown Feature Film: Dr. Bird's Advice for Sad Poets Web: Go RVing Other: Miami Dolphins – NFL International Series; Net10 Cellular Spots.

FLYING HIGH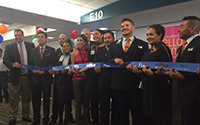 September 2015 was the 22nd consecutive month of double-digit growth in international passenger traffic and the 18th consecutive month of growth in total passengers. FY 2015 total passenger traffic was 26,388,671 up 9.5% over FY 2014. Domestic traffic was up 6.6%. International traffic was up 22.3%. FY 2015 saw the arrival of four new air carriers: TAME from Ecuador with service to Quito and Guayaquil; Volaris began service to Mexico City and Guadalajara; Azul started service to Sao Paulo, Brazil; and Dynamic Air began service to Caracas, Venezuela.

Upcoming new international service includes: JetBlue to Providenciales (Turks and Caicos) and Quito, Ecuador February 2016. New domestic service includes: JetBlue - Baltimore, Charleston, Philadelphia in November 2015, and Albany in December 2015. Seasonal service to Syracuse in January 2016; Southwest - Minneapolis in January 2016; and Allegiant - Portsmouth, NH; Akron, OH; and Rochester, NY in October 2015, San Antonio in November 2015, and Grand Rapids, MI (seasonal) in December 2015. On the Canadian front: WestJet begins new seasonal service to Calgary in November 2015; Sunwing begins new seasonal service to Winnipeg in December 2015; and Air Canada launches wide body Boeing 767s to Montreal and Toronto in December 2015. Other developments include: Spirit resumes seasonal service to Minneapolis in November 2015, and discontinues Toluca, Mexico in December 2015; JetBlue resumed seasonal service to Buffalo in October 2015; Delta resumes seasonal service to Boston in December 2015; United returned to Cleveland in October 2015 and Frontier reduces service to Trenton, NJ only in November 2015 with two flights a week.

PORT EVERGLADES
Broward County's Port Everglades continues its effort to offer the best in cruise guest experience with the installation of a "Coral Glow Persian Sconce Wall" by internationally renowned artist Dale Chihuly in the newly renovated Cruise Terminal 4. Guests will experience Chihuly's dramatic flower-like forms that bloom larger and brighter on the lobby wall as they descend from the second-floor debark area to the first-floor baggage hall. Chihuly is renowned for his ambitious architectural installations around the world in historic cities, museums and gardens. Port Everglades is the only seaport in the world to have a Chihuly.

SUPPORT SEAFARERS' HOUSE WITH YOUR HOLIDAY SHOPPING
When shopping online this holiday season, support the Seafarers' House by using smile.amazon.com instead of amazon.com. With each eligible AmazonSmile purchase, Amazon will donate 0.5% of the price to Seafarers' House. The money goes directly to supporting their mission and help them to serve the growing needs of the world's seafarers! (The first time you visit the site, you will need to search and designate Seafarers' House Inc. as your charity of choice).

HOTEL NEWS
The new $147 million, 349-room Margaritaville Hollywood Beach Resort is now open on the Broadwalk, featuring eight restaurants/bars, three pools, full-service St. Somewhere Spa, and 30,000 sq. ft. of flexible function space. Beachwalk Resort recently opened along the Intracoastal Waterway in Hallandale Beach, with 216 resort units, infinity pool and restaurant. Its beachfront sister property, HYDE Resort features 367 units, a pool, spa, and restaurant. The Ritz-Carlton, Fort Lauderdale unveiled an extensive $8 million makeover to guestrooms, spa, and restaurant.The Pelican Grand Beach Resort completed a $6 million expansion, adding two new ballrooms with new terraces above each ballroom, a new PURE indoor/outdoor spa overlooking the Atlantic Ocean, and a new penthouse. The Sheraton Suites Plantation just completed an $8 million renovation of all suites, hallways, the new club lounge, pool and fitness center.
The new B Ocean Resort in Fort Lauderdale is undergoing an extensive renovation including lobby, restaurants, corridors, outdoor and public spaces, all 487 guestrooms and suites, plus the addition of new features including two B Indulged® Spa Suites AVEDA, dining venue and new meeting space. Completion is scheduled in mid-2016. The Hollywood Beach Marriott is reinventing their restaurant and bar, Latitudes, along the Broadwalk, while still serving food and drinks all day. Click here for photos for updates. And Comfort Suites Airport & Cruise Port will become the Fort Lauderdale Airport/Cruise Port Inn on Dec 21 and will officially become Four Points by Sheraton Fort Lauderdale Airport/Cruise Port, a Starwood Hotel on July 1, 2016.

The Conrad Fort Lauderdale Beach Resort is expected to open in early 2016 with 290 expansive studio and suite accommodations, four alfresco dining experiences, a 4,000-sq ft ocean view spa and fitness center, elevated deck oasis with an ocean-facing pool and plush cabanas, and nine flexible meeting and event spaces. A new 23-story Four Seasons will open in 2018 with 150 hotel rooms and 95 residences, two restaurants, a spa, fitness center, children's recreation room and ballroom and meeting facilities. In downtown Fort Lauderdale, a 24-story dual-hotel complex, featuring a Starwood Tribute Portfolio (209 rooms) and Element by Westin Hotel (114 rooms), will offer retail, restaurant, rooftop bar and sky lobby, seventh-floor infinity pool and 12,000 sq ft of meeting space, opening spring 2017. Construction of a 158-room Lexington Inn & Suites is expected to begin by early 2016 in Dania Beach. Fall 2016 openings include: Fairfield Inn & Suites Downtown Fort Lauderdale with 108 units, and the Hampton Inn Fort Lauderdale/Pompano Beach with 102 units.

SHOP 'TIL YOU DROP
The Galleria at Fort Lauderdale launched its SHINE 2016 tourism promotion, with two $500 shopping sprees for travel agencies and wholesalers who deliver the most visits to the mall via a voucher system. This program launches at an exciting time as The Galleria refines its shopping experience with recently opened and coming soon stores including H&M, Free People, REM French Riviera, Pink, and transformed food court. Visit www.galleriamall-fl.com. Sawgrass Mills continues to expand with shops opening soon including Carolina Herrera, Helmut Lang, John Varvatos Outlet, Marc Jacobs, Rag & Bone, Tod's, Alexis Bittar, Ted Baker London and Vince. The retailers will be the first to open at Sawgrass' expanded Colonnade Outlets, which offers an additional 80,000 square feet of retail and restaurant space. Sawgrass also plans to build Town Center at Sawgrass, an 118,000-square-foot venue with four sit-down restaurants, 25 full-price retailers and a 2,000-vehicle parking deck in 2018.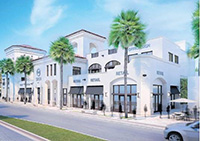 Las Olas Place shopping, dining and office space will open next to the Riverside Hotel on Las Olas Boulevard in Spring 2017. Westfield Broward Mall began a series of monthly paint parties last month with Painting With A Twist® (Davie), offering two hour classes monthly during which customers can create their own unique painting to take home.

ATTRACTION NEWS
The City of Miramar is gearing up for the groundbreaking of an amphitheater project at the Miramar Regional Park. Guests are invited to attend the groundbreaking event, Dec 9 at 10am. Click here to RSVP. You can now hop on the new Train to Trolley Downtown Hollywood Shuttle Service linking the rail station at Hollywood Boulevard and I-95 with the Hollywood Trolley stop at 20th Avenue and Van Buren Street with a free transfer between the Train to Trolley Shuttle and the Hollywood Trolley. For more info visit www.VisitHollywoodFL.org/trolley. North Beach Village Design recently opened at the North Beach Village Resort, exhibiting photography work of FtLauderdaleSun, one of our morning iphonographers on Facebook.
GOOD EATS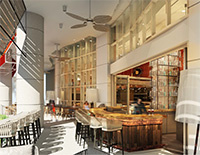 The Ritz-Carlton, Fort Lauderdale's newest restaurant, Burlock Coast, opens its doors this month in a rustic yet sophisticated space featuring an indoor/outdoor specialty rum bar and a carefully-curated marketplace. The Fort Lauderdale Marriott Harbor Beach Resort welcomes back its critically-acclaimed restaurant 3030 Ocean, following an extensive renovation. Boatyard, a new waterside dining concept at the former site of Bimini Boatyard, underwent a complete redesign offering an upscale vibe in a laid-back atmosphere overlooking the Intracoastal Waterway. Las Olas Boulevard welcomes Thursday's, a new bar and restaurant offering French cuisine with an American twist. Pizzacraft, in downtown Fort Lauderdale, recently opened serving wood-fired pizza, homemade pasta, and seasonally-rotating salads. Adjacent to Pizzacraft is a new cocktail bar, Apothecary 330, serving a large selection of craft beer, bourbon and whiskey, and boutique wines.

FROM BOAT SHOW TO BOAT PARADE
The world's largest boat show, set over six location in Fort Lauderdale, sails into town Nov 5-9. The Fort Lauderdale International Boat Show features more than a billion dollars' worth of boats, yachts, super yachts, electronics, engines and thousands of accessories from every major marine manufacturer and builder worldwide on both land and in water. Find more info here: http://flibs.com. Avoid the traffic and park & ride to the boat show from Las Olas Boulevard via the Water Taxi. You'll also receive special discounts at shops and restaurants on Las Olas with your wristband. Click here for more info. Spectators will line the waterways to watch more than 100 brilliantly illuminated boats sail along the New River and Intracoastal Waterway during the annual Seminole Hard Rock Winterfest Boat Parade, December 12, with recently announced Nick Cannon as the 2015 Grand Marshal. Visit winterfestparade.com for tickets

HSMAI SOUTH FLORIDA HONORS HOSPITALITY'S BEST
On December 1, Heiko Dobrikow, General Manager of the Riverside Hotel, will be named Hospitality Legend of the Year during HSMAI South Florida's annual Hospitality Awards Gala and Silent Auction. Other awards include General Manager of the Year, Sales & Marketing and Revenue Management. Proceeds benefit HSMAI South Florida Dr. Peter Ricci scholarship for future hospitality leaders. Festivities begin at 6pm at Margaritaville Hollywood Beach Resort. Early bird pricing ends Nov 10. For more info, visit www.hsmaisouthflorida.org.

GFLCVB TEAM IN ACTION
Check out our team in action at various events and functions around the world. Click here to see.

HAPPENINGS AROUND TOWN
Through Nov 30: Hubble 3D, Museum of Discovery & Science & AutoNation IMAX
Through Nov 30: Space Station 3D, Museum of Discovery & Science & AutoNation IMAX
Nov 4: The Pump and Dump: A Parentally Incorrect Show and Night Out, For Once, Fort Lauderdale Improv
Nov 5: Fort Lauderdale Job Fair, Broward County Convention Center
Nov 5-8: Big Fish, Broward Center for the Performing Arts
Nov 5-9: Fort Lauderdale Int'l Boat Show
Nov 6: Bacon Bash, Esplanade Park
Nov 6-22: Fort Lauderdale Int'l Film Festival, Cinema Paradiso
Nov 7: Bill O'Reilly and Dennis Miller: Don't Be a Pinhead Tour, Hard Rock Live
Nov 7-8: Miami City Ballet, featuring Swan Lake, Broward Center for the Performing Arts
Nov 10: Florida Panthers vs Calgary Flames, BB&T Center
Nov 11: The Great American Divas, Parker Playhouse
Nov 12: Three Dog Night and America, Hard Rock Live
Nov 12: Florida Panthers vs Buffalo Sabres, BB&T Center
Nov 12-29: Dogfight, Broward Center for the Performing Arts
Nov 13: An Evening with YES, Broward Center for the Performing Arts
Nov 13: Jason Derulo, Hard Rock Live
Nov 14: Holiday Fantasy of Lights 5K Run and Walk, Coconut Creek
Nov 16: Florida Panthers vs Tampa Bay Lightning, BB&T Center
Nov 17-29: Disney's Newsies, Broward Center for the Performing Arts
Nov 19: Florida Panthers vs Anaheim Ducks, BB&T Center
Nov 21: Florida Panthers vs New York Rangers, BB&T Center
Nov 21: Purple Hat Parade, Esplanade Park
Nov 23: Florida Panthers vs Los Angeles Kings, BB&T Center
Nov 27: Daughtry, Hard Rock Live
Nov 27: Florida Panthers vs New York Islanders, BB&T Center
Nov 28: Daryl Hall & John Oates, Hard Rock Live
Nov 28: FAT Village ArtWalk
Best wishes,





Nicki E. Grossman
President