• Twenty-three miles of Atlantic beaches (Hillsboro Beach, Deerfield Beach, Pompano Beach, Lauderdale-By-The-Sea, Fort Lauderdale, Dania Beach, Hollywood, Hallandale Beach, each with their own personality) and 300-plus miles of Intracoastal Waterway and navigable inland canals make Greater Fort Lauderdale the "Venice of America" and yachting capital.
• Six beaches (Fort Lauderdale, Hollywood, Deerfield Beach, Pompano Beach, Dania Beach and Lauderdale-by-the-Sea) are Blue Wave Certified by the Clean Beaches Council.
• 11 cruise lines sail 33 cruise ships from Port Everglades - carrying close to 4 million people in 2016.
• Fort Lauderdale-Hollywood International Airport, is ranked 21st in the U.S. in total passenger traffic and 13th in domestic origin and destination passengers. There are more than 325 departure and 325 arrival flights a day. FLL offers nonstop service to more than 140 U.S. cities and flights to Canada,  Bahamas, Caribbean, Mexico, Latin America, and Europe. FLL averages 640 commercial flights per day on 30 airlines. There are also 100 private flights. Each day an average of 80,000 travelers pass through the four terminals at FLL.  
• In 1986, the city began a transformation process that changed Greater Fort Lauderdale from a spring-time college destination to a year-round, family-friendly retreat. The story of spring break's history in Fort Lauderdale dates back to the 1930s - and its future is continually being told, retold - and refashioned. Some of the old haunts - from hotels to bars - still are open, with proprietors keen to retell the tales of Spring Break's heyday in the 60's, 70's and 80's. Success can be seen in the caliber of shops, restaurants and hotels along the beachfront. Your grandparents, parents - even you - might not recognize the Fort Lauderdale beach made famous by "Where the Boys Are." Spring break has taken on a whole new appearance. Today, visitors include families and couples, meeting attendees and international travelers - and even a few college students.
• The arts and culture scene in Greater Fort Lauderdale has blossomed. Today it includes arts districts, festivals and a county-wide $100 million art in public spaces program.
• The concept of spa as a total wellness experience rejuvenating mind, body and spirit has long been embraced by the community, evidenced by the wide variety of spas available to residents and visitors of Greater Fort Lauderdale, ranging from upscale, European-style establishments to sites offering a more holistic approach. 

•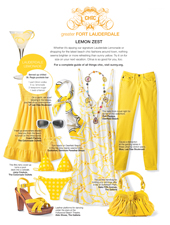 For those keen for serious shopping, Greater Fort Lauderdale takes its shopping very seriously. Domestic and international travelers are known to visit area shopping centers and mega-malls and buy suitcases just to bring home their new purchases. The Galleria: Accessible by car or Water Taxi (from the nearby Gallery One - A Doubletree Suites by Hilton), this mall reflects Greater Fort Lauderdale's upscale style. Sawgrass Mills (and nearby Ikea): One of the nation's first mega-outlet malls, Sawgrass Mills includes retailers Prada, Michael Kors, Off Saks, Bloomingdales Outlet, Coach, Judith Ripka, True Religion Brand Jeans, TAG Heuer, Tumi, Tommy Bahama's Outlet, Giorgio Armani General Store, Burberry Outlet and Kate Spade, among scores of others. Some hotels run shuttles to area malls. The mall's Bags To Go program will fetch and forward shoppers' luggage to Fort Lauderdale/Hollywood or Miami International airports. Las Olas is known as Greater Fort Lauderdale's "style mile," lined with stores and restaurants of all kinds serving all tastes. Independently-owned boutiques feature couture, jewelry, home décor, art galleries and specialty gifts.
• Florida has become the third most active gambling s
tate in the U.S. Greater Fort Lauderdale is in many ways the epicenter of that activity. Pari-mutuel betting venues and free-standing casinos combine the excitement of traditional table games; slot machines; horse, dog and harness racing; jai-alai; simulcasting - and all the excitement that comes with them. The short list found in Greater Fort Lauderdale includes the Seminole Hard Rock Hotel & Casino Hollywood, Gulfstream Park, the Isle of Capri Casino and Pompano Park Racing, and the Mardi Gras Casino and Poker Room offer casinos, thoroughbreds, dog racing and race simulcasting. Jai-Alai (pronounced "Hi-Li") at The Casino @ Dania Beach features the "world's fastest sport" and a poker room.
• 
Sport Lauderdale. For generations, sports fans from South Florida and beyond have enjoyed their home teams here - no matter where their "home" may be. With representatives from every major professional sports league in town, there's sure to be a tale to be told of the fun of a home-stand in South Florida. The BB&T Center takes on a dual personality of conflicting fan bases when Greater Fort Lauderdale's own Florida Panthers welcome the Montreal Canadiens or New York Rangers to town. There's nothing like the raucous time when the Dolphins host the New York Jets, the New England Patriots - or other AFC East rivals. The 2013 NBA world champions Miami Heat NBA franchise plays nearby in the American Airlines Arena - which fills with fans from rivals like the New Jersey Nets or New York Knicks when those teams travel south.
• 
Dive right in - the water's better than fine. Just off Greater Fort Lauderdale's 23 miles of clean, Blue Wave-certified sands is a three-tiered living coral reef system and more than 76 artificial reefs that have made this one of Florida's most popular dive destinations. Snorkelers can swim a few hundred feet off shore (remember your buddy and dive flag) to reefs that begin at less 15 feet in depth in places like Lauderdale-By-The-Sea, just south of Anglin's Pier at Commercial Boulevard; Greene Street, three blocks north of Hollywood's North Beach Park; Dr. Von D. Mizell-Eula Johnson State Park in Dania Beach; or at the new Shipwreck Park in Pompano Beach. (Click here to learn about more Greater Fort Lauderdale dive sites).